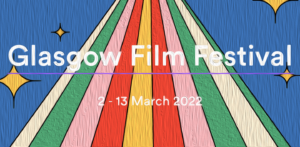 As an audience member at the 2022 Glasgow Film Festival, one of the most pleasurable parts of the festival was  to feel its atmosphere. Being present means that you are wrapped up in a series of rituals, events, screenings, and atmospheres.

作为今年格拉斯哥电影节的观众。对我来说,电影节最具有乐趣的一部分,是感受在场性。在场意味着被一系列的仪式、活动、放映、氛围所包裹。这种在场的特质将我们和陌生的人和环境联系起来,这种时间和空间上的共存创造了我对于电影节的记忆。我们观看电影,我们体验节日。我记得我在看惊喜电影前因为火车晚点而在雨中狂奔到电影院的慌乱和忐忑;记得在两部电影中场休息时在茶水间的座椅上无意间听到恐怖电影迷和朋友兴奋的对话;记得我和朋友一起影院星巴克买咖啡排队时闲聊时侯的惬意。我关于电影节的记忆是围绕着电影展开,却又从电影开始无限延伸。惊喜电影开场时兴奋,电影放映期间的哄堂大笑,散场时其他观众的唏嘘讨论,以及那些微小的细节,沉闷的放映厅,刺鼻的香水味,潮湿的夜晚,拥挤的地铁,狼吞虎咽吃下的三明治。引用在GFF嘉宾Maya Angelou在行业活动现场的一句话:"人们会忘记你说了什么,人们会忘记你做了什么,但是人们永远不会忘记你让他们在电影节感受到了什么。"
格拉斯哥电影节,一个地区性的,非精英的,对所有居民开放的电影节。这样的在场让我感受到,我是当地社区的一部分,我是这些首映电影最早接触的观众之一,这是电影节的魅力,一个具体的空间,一个充满乐趣的共同体。没有什么可以代替亲临现场。
This quality of presence connects us to unfamiliar people and surroundings, and this coexistence in time and space was essential to my memories of the festival. We watch the films, we experience the festival. I remember the panic and apprehension I felt as I raced through the rain to the cinema before watching the surprise film because the train was late, the exciting conversations I overheard between horror film fans and their friends in the cafe  during the interval of both films, and the pleasure I felt as I chatted with friends in the queue for coffee at Starbucks in the cinema. My memories of the festival revolve around the films, not only the excitement of the surprise opening and listening to the heated discussions of other audiences at the end, but also the tiny details of the dreary screening room, the pungent perfume of the humid night, the crowded underground, the sandwiches gobbled down before the film. To quote Maya Angelou  :"People will forget what you said, people will forget what you did, but never forget how you made them feel."
Glasgow Film Festival is regional, non-elite and open to all residents. Being present in this way makes me feel that I am part of the local community, that I am one of the first audience members these premieres reach, and that is the charm of the festival, a concrete space, and a joyful community. There is no substitute for being there in-person.
Written for The Film Dispatch by Chongjin Gan.