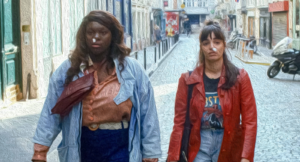 Glasgow Film Festival's motto is 'cinema for all'. What I enjoyed about the festival was that this 'all' included volunteers. This year, the festival ran from the 2nd-12th of March and I volunteered during four of the days.

It was interesting to see the behind-the-scenes of a film festival and experience the atmosphere from the other side of the ubiquitous red velvet rope. For every shift I worked, I was given a voucher that I could redeem for a complimentary ticket to see one of the festival films. This enabled me to see films that I wouldn't otherwise have access to, like The Braves. The film was about two actresses and each other's best friends who are auditioning for the same role in a play. One gets the role and the other becomes her understudy. Drama ensues when the lead falls ill and her understudy wrestles with the idea of replacing her friend. It is both heart-warming and heart-breaking.
For our debut issue, Scott Forrest wrote about the fragility of film explaining how the act of seeing a film is dictated by access. How many of us won't bother to see a film if it isn't available on our preferred streaming platform? Film festivals are all about breaking down barriers to access – 'cinema for all' remember. Although they can't solve the problem, festivals provide an antidote to the issue of access. The magic of film festivals is the way they introduce you to movies you might not have seen if they weren't playing on a rainy Wednesday night in Glasgow, and leaves with movies like The Braves that you can't stop thinking about on the train ride home.
Written for The Film Dispatch by Niamh Carey-Furness.