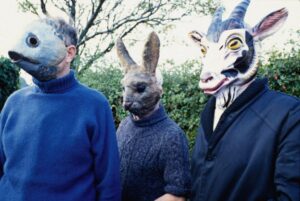 The Wicker Man (Robin Hardy, 1973) was an offbeat horror film.
It followed Edward Woodward, a puritanical police officer, as he went to a fictitious Scottish island in the Hebrides to look into the disappearance of a little child. He instead comes into a town inhabited by happy pagans under the leadership of Lord Summerisle, played by Christopher Lee. Then, he finds out that the people are strange and unhelpful, and as a result, he gets more motivated than ever to find out what happened to the missing person. In the end, the truth of little child who is disappeared is a lie, aimed to lure police officer to burn him, thus performing human sacrifice.
This film defies every convention associated with the horror genre. In other words, The Wicker Man is devoid of "conventional" horror tactics, such as jump scares and blood, rather allowing viewers to develop their own thoughts about the customs of Summerisle. Instead, song is a common form of communication among the people. In this respect, this film relies on musical sequences to establish audio-visual landscape in combination with diegetic and non-diegetic folk songs, thus giving audiences a sense of immersive quality. What is more, there is not traditional horror flick in the representation of the film, which means that all of the representation of plot is depicted matter-of-factly. This is evidenced in scene where the police officer observes a lady nursing and clutching an egg in a cemetery and visits a store stocked with chocolate hares (symbolising the "transmuted soul") while he searches Summerisle for the missing Rowan Morrison, who is really perfectly alive and well. There is none of the typical manipulation or theatrics seen in horror movies, and the depiction of all of this is done in a matter-of-fact manner.
The picture, in its whole, is its shockingly accurate description of religious ideology regarding the things that individuals will do in the name of their faith or, more broadly speaking, their beliefs. The use of 88 minutes compose the whole storytelling. A first viewing of The Wicker Man is an experience that cannot be described as anything other than energising, exhilarating, and simply hilarious.