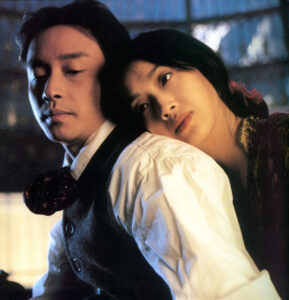 The Phantom Lover is a melodrama between Danping Song (Leslie Cheung) and Yunyan Du (Jacqueline Wu).
Danping Song is an actor, the protagonist of The Phantom of the Opera. Yunyan Du is the beautiful daughter of a corrupt and despotic official. Although Danping and Yunyan fall in love with each other, Yunyan's father still betrothed her to a powerful family, which will do good for both two families. Her fiancé is merciless and burns Danping Song before the wedding. On the wedding day, her husband finds that she is not a virgin and drives her out of the house. Eventually, Yunyan becomes a crazy woman. Ten years later, when a new cast comes, the tragedy seems to happen again.
This Hong Kong film combined the form of Shakespeare's tragedy and the traditional Chinese novel of injustice together. After the burning, everyone believes that Danping died except the crazy woman Yunyan. Danping is like a ghost waiting for his girl every time when the moon is full, hiding somewhere in the theatre, singing to her girl. He does not have the courage to meet his beloved. In the end, the motivation that makes him decide to meet Yunyan is another tragedy coming through a new couple. That is to say, sadly, he is never brave enough for even one time. There are many opportunities that he can take Yunyan with him together and go somewhere else, but he and Yunyan miss one after another.
All in all, in that feudal age, no one was fully innocent and was spared. Everyone is caught up in the society they are in.
—Hsiang-Ni Shao (Sanny)