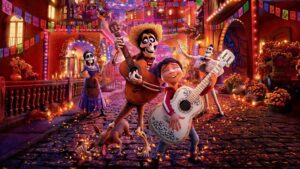 Coco (2017) offers the illusion of a link between the real world and the return of dead souls, through the memories and thoughts of the living, personified in photographs, which the souls are able to return to on the annual El Día de los Muertos.
In the film, the world after death is rich and vibrant, with real world conventions such as idolatry and class; this provides a perceptible 'temperature' for the audience to understand death from the perspective of the living, making the latter less frightening. In this setting, the care of family members is highlighted, and even though Héctor's musical achievements go unrecognised, he keeps his shape and ultimately justifies himself by virtue of Coco's memories and thoughts of him.
The bond between the dead and the living, represented by the skeleton, is the focus of this film, which also invokes the theme of El Día de los Muertos in Mexico, which is celebrated from 31th October to 2rd November and presents a diverse range of colours and decorations showing the joy of life and the love for the dead loved ones in the form of carnival style. Mexicans dress up and party, like in a singing competition in a film, with the intention of paying tribute to those who have passed away with joy.
Thus, El Día de los Muertos, which is also a festival associated with death, is both the same and different from Halloween, which may be celebrated with a more macabre twist. In any case, death is a topic shared by both festivals and it will be interesting to see how the two are linked together, especially how the concept of death is presented in festive dress and costume and what it means for the living.
As Coco (2017) expresses, death is not an eternal separation, forgetting is.
–Mingming Wei