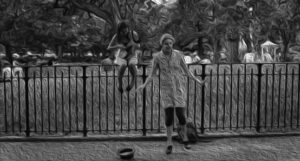 The 2012 film Frances Ha written by partners Greta Gerwig and Noah Baumbach is great to watch if you are not broke, single and searching for a job or a purpose. If you are any of those things (or perhaps just a Master's student who is trying not to stress out about the future), Frances Ha is raw, real and a bit too relatable.
Shot in black and white, Frances Ha follows the life of Frances (Greta Gerwig) as she moves between different New York City locations in the search for a stable job and apartment. During her search, her relationship with her best friend, Sophie (Mickey Sumner), grows tense, but Frances continues to hear about Sophie's changing life and relationships. There is no customary narrative development. Instead, the audience follows Frances as she stumbles through life and ponders if we should be laughing or crying. We never get a break from her as Frances is in every scene, marking clearly that the film is centered around her. Frances is annoying, sometimes uncomfortable, but also charming and melodic. There is a lot of lighthearted comedy in the film centered around Frances's positive outlook; she doesn't complain about being homeless, single, alone, or unemployed. She holds on to this idea that she is destined for success to keep her going, keeping her confidence in the face of all deflating evidence. Frances Ha conveys how searching for yourself can also include running from reality, and that sometimes it is necessary to keep a positive outlook in the face of so much hopelessness. Ha comes just four years after the 2008 market crash and interprets the hope beautifully and even delusion, graduated students struggle to hold on to in otherwise grim outlooks.
Additionally, Frances Ha is a counter-cinema production of female desire. Throughout the film, Frances expresses her ultimate desire for companionship and relationship that can be expressed as either romantic or platonic. Frances Ha ultimately frames female desire outside of sexual desire, as Frances desires her best friend, a stable job and a stable living situation. Frances Ha offers an alternative form of female desire centered around companionship and stability and as a result subverts any masculine notions of desire. Frances delivers a monologue conveying her desire:
FRANCES: It's that thing when you're with someone, and you love them and they know it, and they love you and you know it, but it's a party..and you're both talking to other people, and you're laughing and shining, and you look across the room, and catch each other's eyes…but, but not because you're possessive, or it's precisely sexual…but because…that is your person in this life. […]That's what I want out of a relationship. Or just life, I guess. Love.
Frances's desire for the look of love and companionship is one that is easily relatable to those searching for stability and purpose and who don't necessarily feel capable of maintaining a romantic relationship. Focusing her desire around companionship helps this film keep an overall refreshing lighthearted feel for millennials and Generation Z struggling to find stability.This bittersweet comedy gets at both the frustrations and joys of being young, uncertain, and lonely and does so in a way that creates a unique narrative centered around nontraditional female desire.
Written by Grace LaNasa for The Film Dispatch.