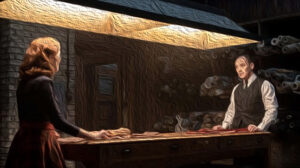 Like a well-tailored suit, The Outfit (2022, dir. Graham Moore) is streamlined and unpretentious. The film follows a former Savile Row 'cutter' Leonard Burling (Mark Rylance) plying his trade out of a shop in Chicago.

What makes Burling different from other tailors are his reluctant mob ties. He has a box in his backroom that the mob used to leave each other messages and cash. Quickly, Burling's peaceful craftsman's life is interrupted when the mob learns of a rat in their midst. Suddenly, he has a hard time keeping blood off his suits.
As Graham Moore's directorial debut, The Outfit marks Moore as a filmmaker to watch. Moore is known for his award-winning screenplay for The Imitation Game (2014). The Outfit feels like a blend between Moore's background as a Chicago native and the stiff-upper-lip characters he wrote for The Imitation Game. The script is well-written and the film also displays Moore's talents as a director and the talents of his cast, which is stacked with veterans including Dylan O'Brien, Zoey Deutch, Johnny Flynn and Nikki Amuka-Bird.  
There are moments where the dialogue drags. Also, since the film is set all in Burling's shop, it feels like watching a recording of a play. But the dialogue builds to gut-turning twists and the limited setting creates a sense of claustrophobia that adds to the suspense. Although not philosophically profound, The Outfit is not as hollow as most mob dramas.  
The film is being screened as part of Glasgow Film Festival's 2022 programme, with limited screenings available across the country in Glasgow, Edinburgh, Aberdeen and London. In April, The Outfit is set for a wider UK release. I have a hunch that this film will be the one that people profess to have seen 'before it was cool.' Overall, The Outfit is a fun and fresh take on a familiar genre. It has twists and turns, humour and heart as well as a few surprises up its well-tailored sleeve.  
Written by Niamh Carey-Furness for The Film Dispatch.