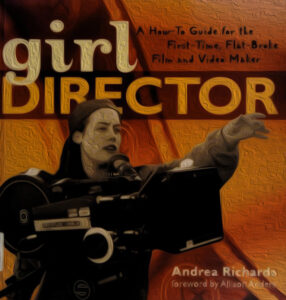 GIRL DIRECTOR: A How-To Guide for the First-Time, Flat-Broke Film and Video Maker by Andrea Richards, published by Ten Speed Press, Berkeley, California, 2005 
Styled like a colourful glossy magazine, tackling movie-making from start to finish on a budget of $0, this book will inspire those who wannabe filmmakers aged from teenagers upwards. Wisely, as it is engaging visual people, it uses plenty of photographs, diagrams, graphics, a variety of page layouts and not one but two page corners with photos which operate as a flick-book (i.e. when you flick through the page, those little photos seem to move.)

There are ample quotes from life stories of successful women in film over the past hundred years, with encouragements like: "You just got your backside in there, baby, and you did it" (Ida Lupino), and "It's not a part-time job, it's not a full-time job, it's an obsession" (Claudia Weill).
Whether the reader wants to direct a film, animate a short, or put on a film festival, this book takes you through it step by step. I can't recommend it highly enough for being motivational, encouraging and can-do with lots of practical tips and tricks for those willing to start with not much more than a camera, some ideas, and friends willing to act.
There are only 2 weaknesses of this book: it is slightly outdated as it favours Super 8 over video and it's only available secondhand – which is where all the first-time flat-broke filmmakers shop, right? (At the time of writing, there are 2 copies for £5 each available via Abe Books)
Written by Heather Gregg for The Film Dispatch.