Did you know that you can make your own shower shine spray, so that you don't have to keep buying trigger bottles?  I have started making my own and just refilling spray bottles I already had, so am avoiding creating more plastic waste.  It's a lot cheaper too!  And it takes just minutes to make – quicker than looking for a bottle in the supermarket!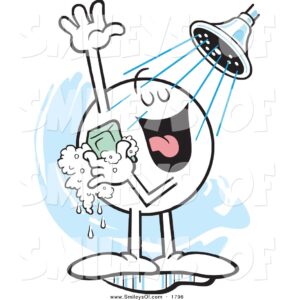 The way I make it is to mix one part non-brewed condiment (white vinegar) with three parts water and then add some drops of essential oils (I use 5-10 drops for every half cup of vinegar) and shake.  If you use peppermint, tea tree or lavender oils, this provides additional mild disinfection.
If you use this to spray around your shower cubicle/bath after your shower, it will prevent the build-up of soap scum, mould and mildew and keep the glass shining.  You can use it on fiberglass, glass, acrylic and most tile surfaces, and also on shower curtains.  Just shake the bottle each time, spray it around and leave to dry naturally.  No need to rinse.
Make sure you use non-brewed condiment rather than malt vinegar, so that your bathroom doesn't smell like a chip shop!  However, if you find you don't like the smell of it, you can make it with surgical spirits instead (same proportions).  This version is also good for marble and natural stone surfaces, as well as the more usual ones noted above.
Share