No Disposable Cup Day (https://nodisposablecup.com/) was started in 2019 to raise international awareness of the fact 7 million disposable cups are used every day in the UK. 500,000 of these are discarded daily.
The UK is one of the highest consumers of disposable cups, totaling 2.5 billion a year and around half the coffee we drink is from a disposable cup.
No Disposable Cup Day aims to encourage as many consumers as possible to avoid disposable cups for one day and also work towards ending the use of disposable cups completely.
Last year, just before No Disposable Cup day, one of Boris Johnson's aides confiscated his coffee for being in a disposable cup – https://www.standard.co.uk/news/politics/no-disposable-cups-hilarious-moment-panicked-boris-johnson-aide-snatches-his-coffee-a4251171.html. I wouldn't want to speculate on whether he took the initiative to stay disposable cup free…
The NHS is trying to combat disposable waste in the staff canteen. In October 2019 the staff canteen started charging 10p for a disposable container and 5p for a disposable cup in an effort to encourage customers to bring their own reusable containers and cups.
The University of Edinburgh introduced the sustainable and re-useable KeepCup into catering outlets in 2011 and over 25,000 have now been sold. In August 2018 a 25p disposable cup tax was introduced on all disposable cups in as well as addition of more drinking water points and sales of water bottles.
Would being charged extra motivate you more to bring your own cup? It is a different approach from the big retailers below.
Many of the biggest companies using disposable cups are already members of the National Cup Recycling Scheme (https://www.cuprecyclingscheme.co.uk/); such as Costa, McDonalds, Pret a Manger, Caffe Nero, Burger King, Greggs and Lavazza. This is a great scheme but the number of cups discarded each day is still extremely high.
The best thing we can do to promote sustainability and help the environment is to use reusable cups when buying our drinks.
The incentives available on the high street are;
Caffe Nero – Offer a double stamp on their loyalty card when using a reusable cup. They sell a Keep Cup for £11.
Costa – Offer a 25p discount when using a reusable cup. They sell reusable cups for £3 and also have a Clever Cup, which has contactless technology in the base so you can pay for your coffee using the cup! (https://www.costa.co.uk/behind-the-beans/our-planet/recycling).
Starbucks – Offer 25p discount when using a reusable cup. It costs £1 for a reusable cup and they also offer a contactless procedure for filling your cup with your favourite drink (https://stories.starbucks.com/emea/stories/2020/starbucks-is-ready-to-reintroduce-reusables-across-emea/). This seems a great process in the current climate when we are all taking extra precautions, but want to find some sense of returning to normal life.
Pret a Manger – Offer 50p discount when using a reusable cup. They sell reusable cups for £10.
Greggs – Offer a 20p discount when using a reusable cup. They sell reusable cups for £2.
Marks & Spencer – Offer a 25p discount when using a reusable cup. They sell reusable cups for £3.
There are also a wide range of reusable cups available to buy online and some are designed to keep your drink warm, useful if you have a long commute.
https://www.chillysbottles.com/uk/categories/coffee-cups
https://www.hydroflask.com/uk-en/coffee
https://bru-cups.co.uk/collections/our-cups
https://turtlecup.co.uk/collections/coffee-cups
https://circularandco.com/reusable-coffee-cup
If you do have a reusable cup, please try and use it as much as possible. As well as anything else that there is a reusable option for. While disposable cups are the focus on 4th Oct, single use plastics are also an issue.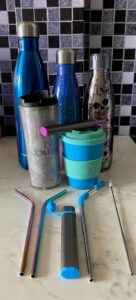 I now have a nice little collection of reusable items at home; coffee cups, water bottles and straws (I keep the straw in my bag for use when eating out and it comes with a brush and case to keep it clean).
Share