As part of healthy eating week, today's focus is on eating more veg. I have been a vegetarian for about 10 years. I stopped eating meat when I learned how much meat contributed to climate change. Eating a veggie diet generates 2.5 x less carbon emissions than a meat diet. https://vegsoc.org/info-hub/why-go-veggie/environment/. On October the 1st it is world Vegetarian Day, so it's a great time to learn more about vegetarianism and think about upping your veg intake https://worldvegetarianday.navs-online.org/.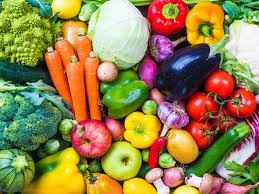 People often think it will be difficult to give up meat, but I didn't find that was the case. If anything, becoming vegetarian opened up a whole world of new meal opportunities that I had never considered before out of ingrained meat-eating habits. But even if you don't want to become vegetarian, the planet and our health can both benefit from eating more veg, so why not have at least one meat-free day a week, or just increase your veggie intake per day.
I have put together some simple meal ideas that are quick and easy and can please even young children – Gilchrist family approved!
Pea risotto – Simply fry onions, then add frozen peas and veg stock. Puree. Partly cook risotto rice with stock and then slowly add the pea puree until rice is cooked. If you don't have fussy eaters to worry about, you can even add a few whole peas near the end. I usually serve with toasted pine nuts and kale 'crisps'. Wash curly kale and remove all stalks, once dry, rub oil into the leaves and season, then spread out on a baking tray. Cook at a low temperature in the oven until dried and crispy.
Halloumi and giant wholemeal cous cous. Cook giant cous cous in veg stock, roast veg of your choice, I usually roast peppers, sweet potato, squash and cherry tomatoes. Cut up halloumi into chunks and roast too. Mix everything together with the cous cous and serve warm or cold, great for packed lunches.
There are loads of veggie recipes online, but a good starting place for a great collection of veggie recipes is the bbc good food website https://www.bbcgoodfood.com/recipes/collection/vegetarian-recipes
Another way to vary your veg is to get a local veg box. I recently bought one from my local community enterprise https://gorebridge.org.uk/veg-boxes/ and it was packed with lovely local veg. It's a chance to get on the internet and get creative with something you might not have tried before or just don't normally choose. Also, veg boxes usually come with much less plastic packaging, so it's a double win for the environment. There are loads of veg box schemes in Edinburgh and beyond, so why not look for one local to you, and let us know if you find any other good ones.
If you have any veggie packed recipes then please share them on the blog page https://blogs.ed.ac.uk/sustainable-wellness/
Share