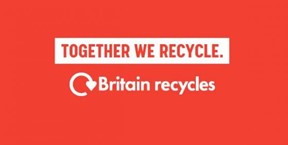 As part of #recycleweek 2020, "Thanking the nation: Together we recycle" we'd like to thank everyone that have continued to recycle despite it being a challenging year. Regardless where we are working, we can still band together and create a positive change in the world around us. Keep doing your bit and check out the resource links below! And if you have any tips, please do share!
• Recycling from every room in your home: A Checklist https://www.recyclenow.com/recycling-knowledge/facts-and-info/10-things
Other than in your kitchen, find what other recyclable products are in your home.
• SwapForGood https://www.keepbritaintidy.org/news/our-swapforgood-top-10
Say no to single-use plastic and discover all of the simple ways you could make a simple #SwapForGood. Keep Britain Tidy are also running a competition to share your favourite #SwapforGood, so don't miss out and enter before 30 Sept for a chance to win a Waste less, Live more goodie bag!
• How to use less plastic https://www.wildlifewatch.org.uk/how-use-less-plastic
Cut down on unnecessary plastic in your daily and weekly routine.
• Love food, hate waste https://scotland.lovefoodhatewaste.com
Reduce your food waste with tips on how to buy what you are likely to eat, batch cooking, recipes for leftovers, and guidance on how to store food to make it last longer.
• Love Your Clothes https://www.loveyourclothes.org.uk/
Reduce the environmental impact of clothing and influence a more circular approach to clothing globally with their insightful blogs, videos and guides on Buying Smart, Care & Repair, and Refashion & Upcycle on all clothing; and if you want to get ready for the festive season, check out their templates and step by step guide on how to make a Christmas jumper!
• Recycling Locator https://www.recyclenow.com/local-recycling
Find where to recycle a specific item in your local area.
• TerraCycle Drop off points https://www.terracycle.com/en-GB/brigades
Hard-to-recycle waste streams, find where to recycle such items as Contact Lens, Make-up, Disposable Gloves, Pens, Bread bags, Crisps and Confectionary packets.
• Bra Recycling! https://www.againstbreastcancer.org.uk/recycling/bra-recycling/
Recycle your bra's! Yes your bra's, as well as clothes, printer cartridges and used stamps.
Share