The Hebridean Way
(June 2019)
So – a group of my lady friends and I decided to take on the challenge of cycling the full Outer Hebrides last week! My legs are still recovering … but feeling alive! I hope the below inspires you / gives you a wee laugh and encourages you to get out there if you haven't before!
Day 1 (travel day)
Firstly we had to get out to the Outer Heb's, so we hopped on the train to Oban from Glasgow ( with the lovely trolley man Ross throwing us a couple of free bottles of water – wow Scotrail! ) A few wee midges flew around the train carriage BUT we had our citronella bands on our ankles, which actually made us look like convicts out on parole. We were well behaved of course.
Just in time –with a snappy 10 mins to spare, we got on the lovely Calmac ferry from Oban to Castlebay – and what a beautiful sunny day it was. Stuffed our faces with some Cullen Skink pie and headed out on the deck to take in the views and dolphins! We then headed down for a wee nap.
We arrived in Castlebay refreshed and looking forward to some more food. We had booked a wee spot in advance called Café Kismol, which I highly recommend! It's a tiny wee place that serves up Indian food, but using the local lamb, prawns etc. It was delicious. If you go I advise on booking in advance as it was rammed.
Then up to a hotel bar .. there were two and I am not too sure which one it was we went into. But it did not disappoint. We walked into the bar which was blasting 90's club anthems and full of a great bunch of locals. We took a wee seat with a couple of pints and then got chatting with the local crew. We then asked for a wee tune (we noticed they had what looked like the instruments of a full folk band or something. ) Gary and his mate Andy ( who turns out is Andy from the Vatersay boys) played to us late into the night – Andy was downing long vodkas quicker than I've ever witnessed. He kindly offered us a ride on his speedboat the next day – and sadly due to our trip we had to scoot off . But we saw him speeding around the bay anyway which was a laugh.  His mate was the local lobster catcher who offered us a few off his boat – sadly we had nowhere to keep them. It was a great start to our trip and we felt like locals ourselves!
We ended up staying in a hostel in Castlebay that evening, due to having a wee look at the overnight forecast for TORRENTIAL rain. . A wee bit of a sore head in the morning after for all of us!
Day 2
The cycling begins! We set off after having a yummy breakfast at the Toffee Factory (aka Heart Hebrides ) for a big bowl of porridge to fuel us for the day ahead.
Off to Vatersay we went! The sun was shining and the roads were amazing – we flew down the hills. But of course flying down means climbing up on the way back up the Hebs! We made it to the beautiful Vatersay beach, with a few cows for company.
What a treat! We then headed up the West Coast to hop on our first ferry from around Ardmhor to Eriskay – passing some angry Shepard – shouting words I cannot repeat, at the cheeky lambs trying to dodge him and his herding skills! A lovely wee coffee later at the ferry terminal and we were on our way! Past some chubby wee seals taking in the sun on the rocks.
The ferry trip was short but beautiful. I also thought my bird knowledge was alright when I announced to my mates "there's a Shag on the sea!" …. to which a well-seasoned binocular wearing lady turned round and told me it was a cormorant. I stood corrected.
And on we went! Off to Lochboisedale to pick up our mate Amanda to join our troop. Munching some yummy dinner at the Lochboisedale hotel and chatting again with the locals and other travellers. We then cycled on with the wind pushing behind us – we were flying! Off to Howmore to our next hostel.
Day 3
A cosy sleep and a few snacks later – we set off for the lovely Baleshare beach! The sun was out again and stayed out too. Heading to the beach the wind was against us a wee bit so it was a bit tougher to get there. This only meant more snacks! But when we got there is was well worth it.
A couple of seals …..
We then pushed on to get up to Lochmaddy for dinner where we had a delicious meal at Hamersay house. When we turned up though there was no pricing available… and a casual wee Michelin sticker so we double checked there was a normal ish menu. Which there was haha! We munched on some local prawns, fish and more lamb. We refrained from too much wine.
Onward we went all the way up to Berneray where we stayed in the beautiful thatched cottage Gatliff Hostel! (Below) The clouds started to form so we got around the fire inside where we met a woman who had walked all the way from Switzerland to here! WOW!
Day 4
An early start to catch the 7am ferry over to Leverburgh on Harris. It was nice to see familiar faces on these ferries – wee catch up's and laughs about each other's trip up the Hebrides.   Our rumbling tummies were saved by the Butty Bus! Just on the left when you come off the ferry – massively recommend. Big breakfast rolls and coffee later we started on our cycle up the West coast where the breath-taking views began.
 Big smiles all round throughout the trip!
A trip to Luskintyre was a must do! My mate Jenny even swam in the sea … would have been keen but there was a wee bit of a breeze.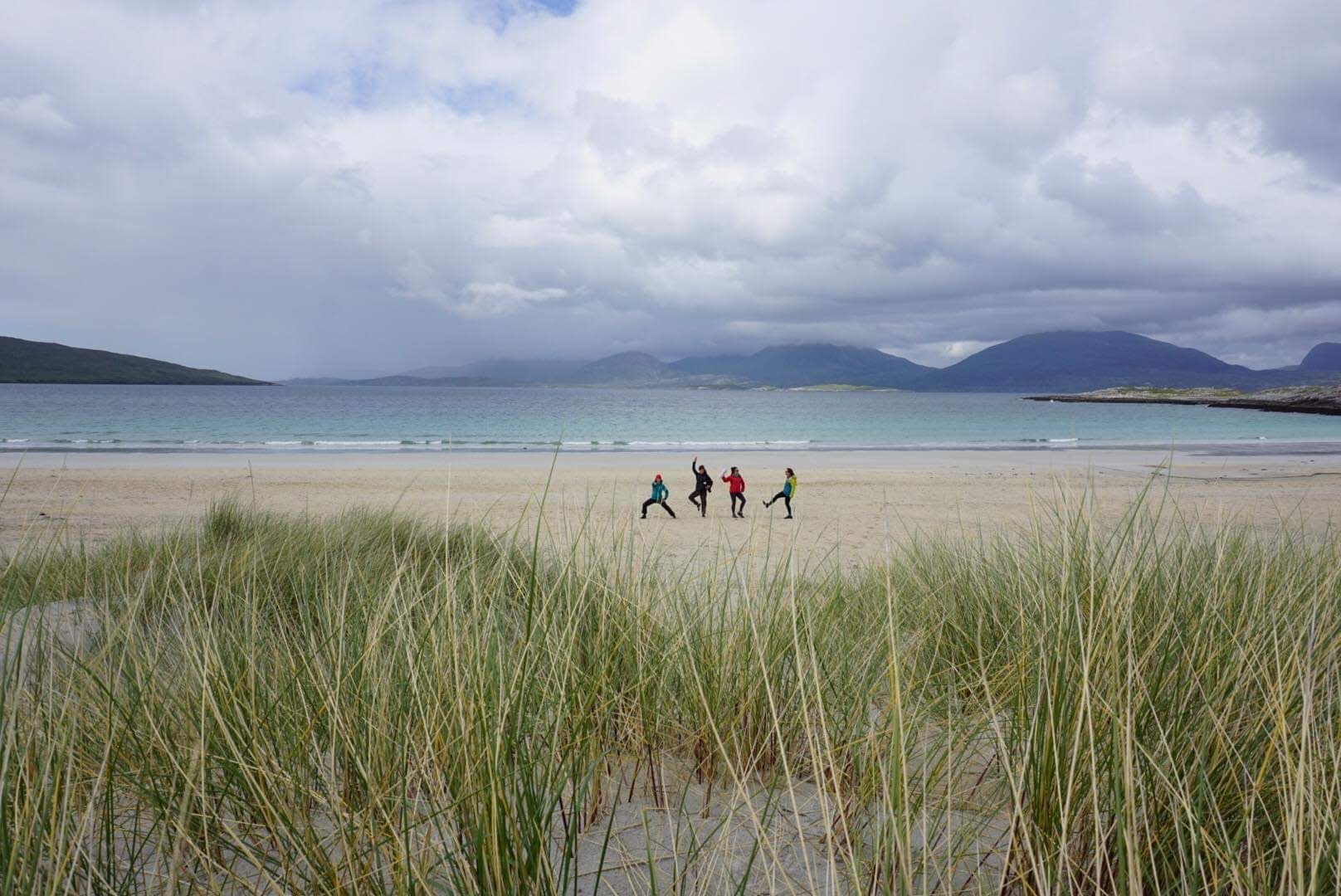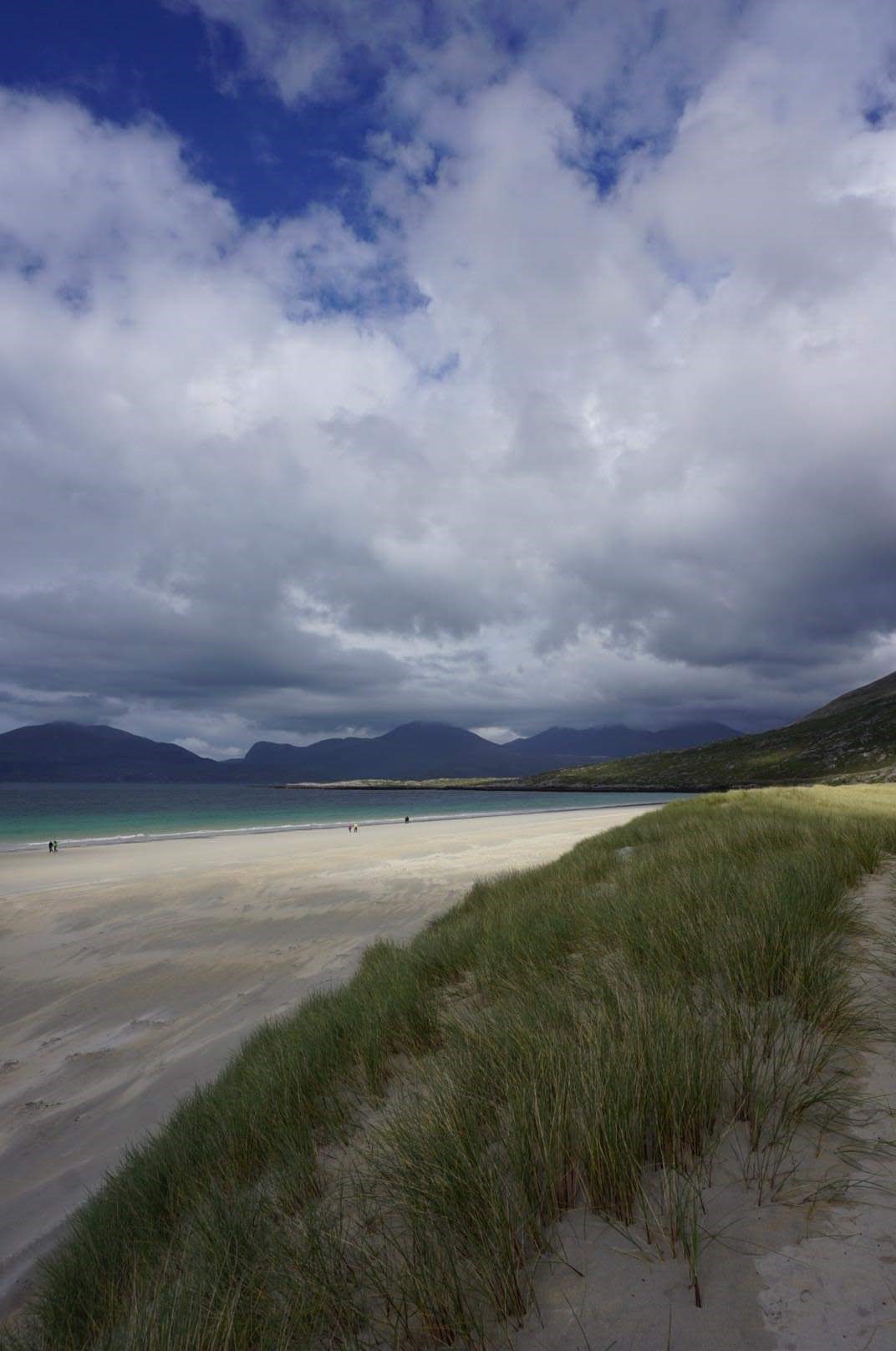 Onward we went! All the way up to Tarbert and the important HARRIS GIN DISTILLERY. The hills in Harris – I must warn you are a wee bit cheeky and steep BUT we got up them without stopping – helped by a bit of Riverdance music. You can only imagine me dancing on a bike while cycling. It's a skill in itself.
WE GOT UP THE HILLS and flew down to Tarbert!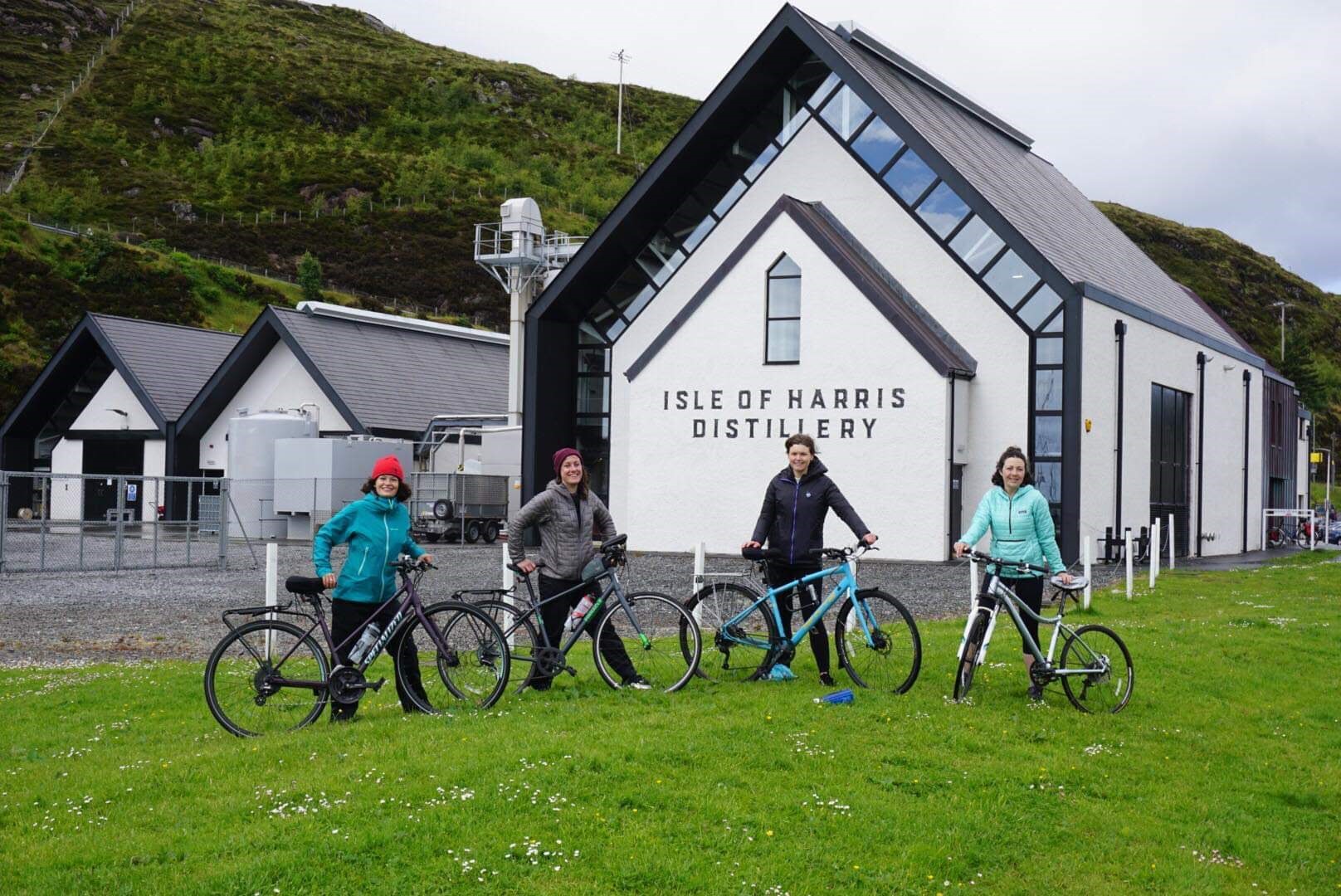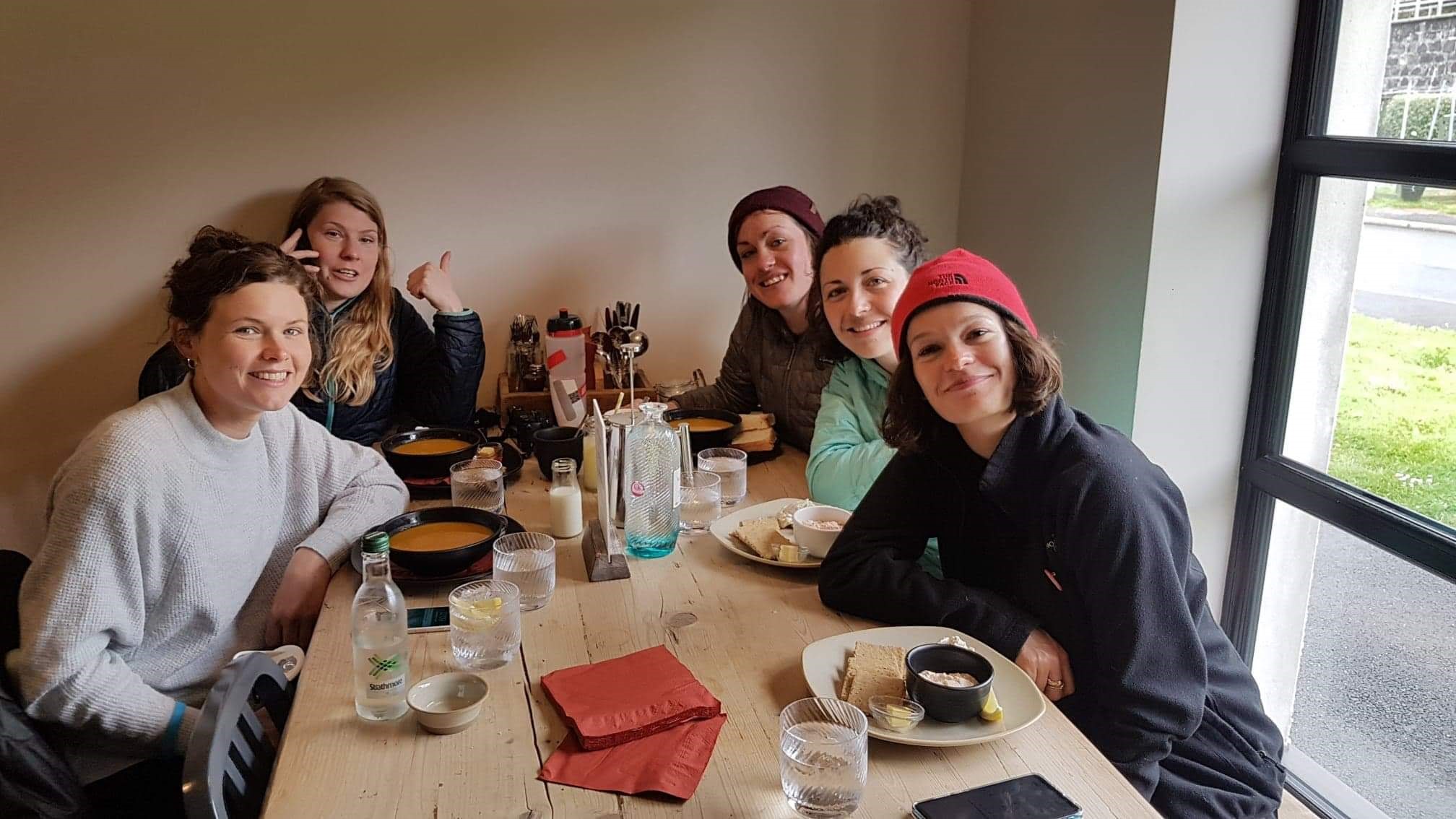 Gin. Gin. Gin.
Another yummy dinner (more lamb for me) in Tarbert where unfortunately the fellowship fell apart – the rest of the ladies, bar Jenny and I decided to go no further on the trip. So it was up to us two to show the islands what we got!
A good sleep was needed that night – helped by a gin or 2.
Day 5
Jenny and I set off out of Tarbert to be greeted by the biggest ol' hill we had seen. But. We. Did. It. AND to our right we saw not one … but two eagles!!! Swooping down the hillside towards – most likely – a rather unfortunate rabbit. A wee treat when getting up that MOUNTAIN.
Wind behind us we rallied on meeting a few nice groups of cyclists. We all puffed about the hills on Harris over a coffee and the Taste and Sea mobile café before moving on. They were doing the trip in wee 20 mile chunks … amateurs. We told them of our goal of the Callenish stones on that day to which they laughed – laugh no more .. WE MADE IT! There is also an AMAZING café there with the best munch and coffee. Go go go. We even had a wee dance around the stones.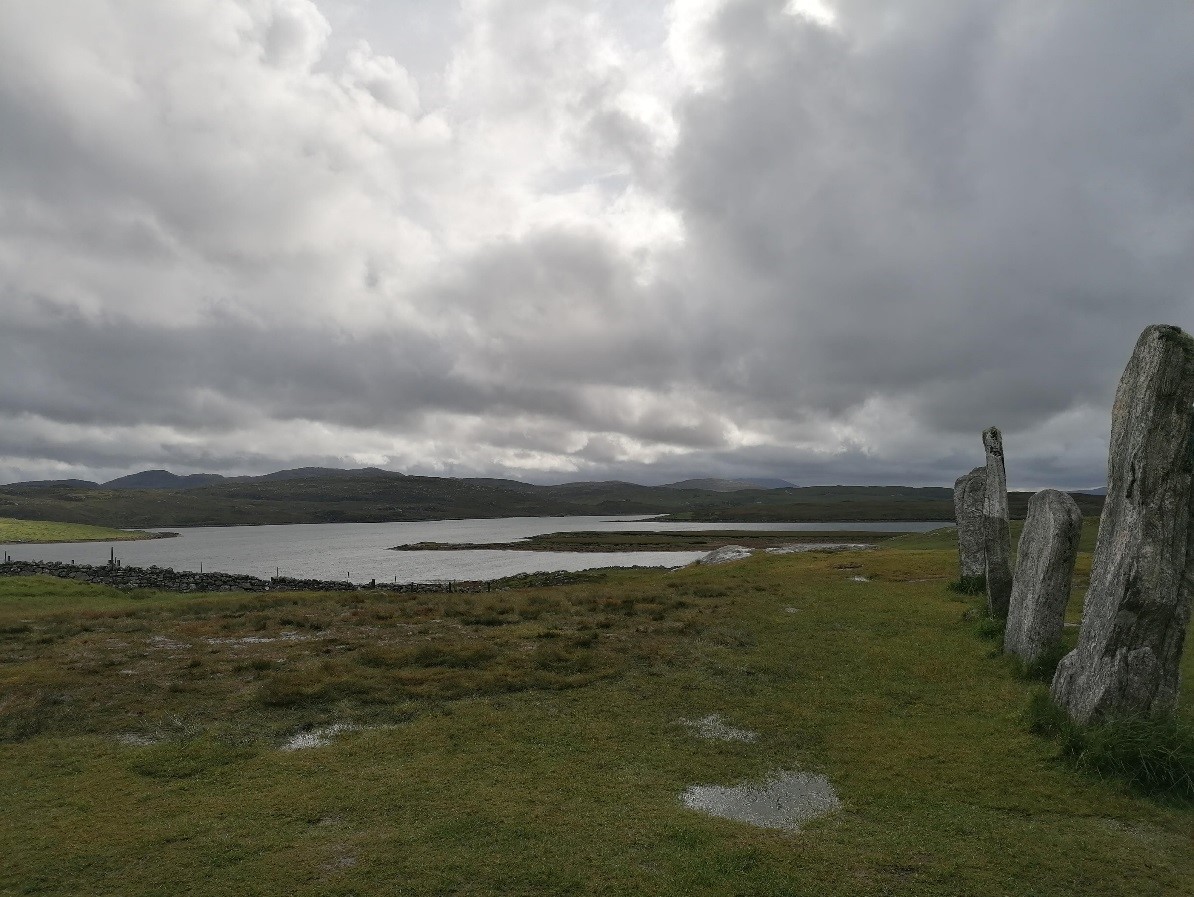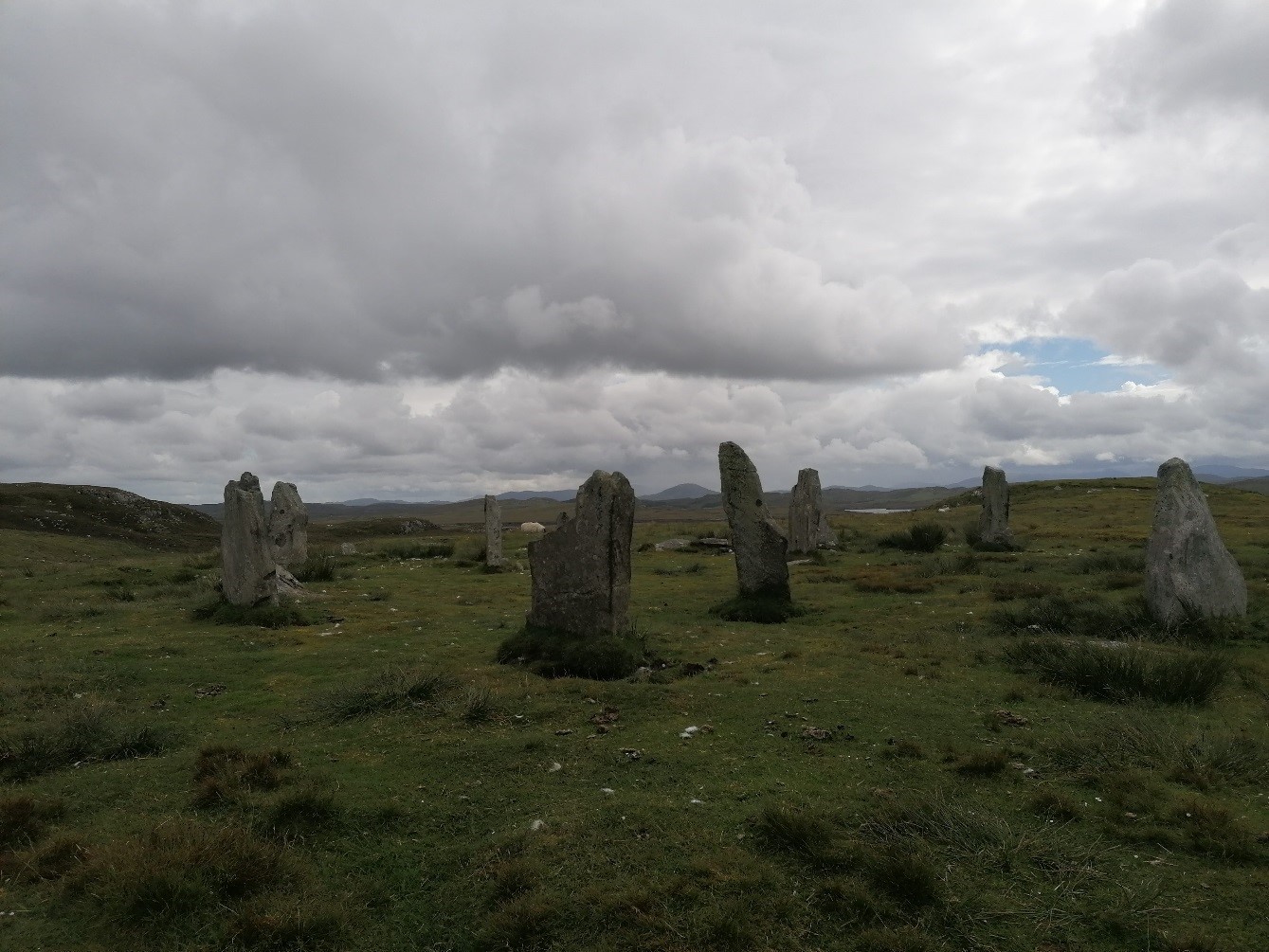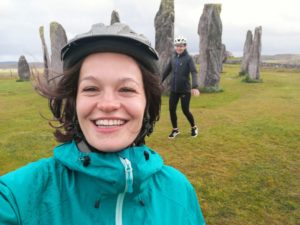 The rest of the crew wanted a wee tipple that eve – so instead of pushing on to the Butt of Lewis Lighthouse, we were picked up and brought back to Stornoway to our lovely Airbnb. Where we had a lovely dinner made by our own Amy, including local scallops!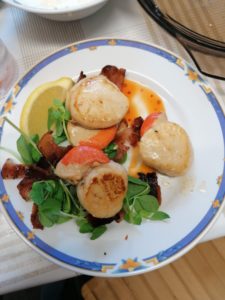 The last chunk to be done the following day….
Day 6 (Final day and travel day back)
We pushed on to the Butt of Lewis lighthouse– through the glorious sunshine again to the very end of the Hebridean Way. To be honest I cried when I saw the lighthouse. It was a big ol cycle trip and felt very proud we had made it! It was emotional. I don't remember the ferry back – I was out like a light.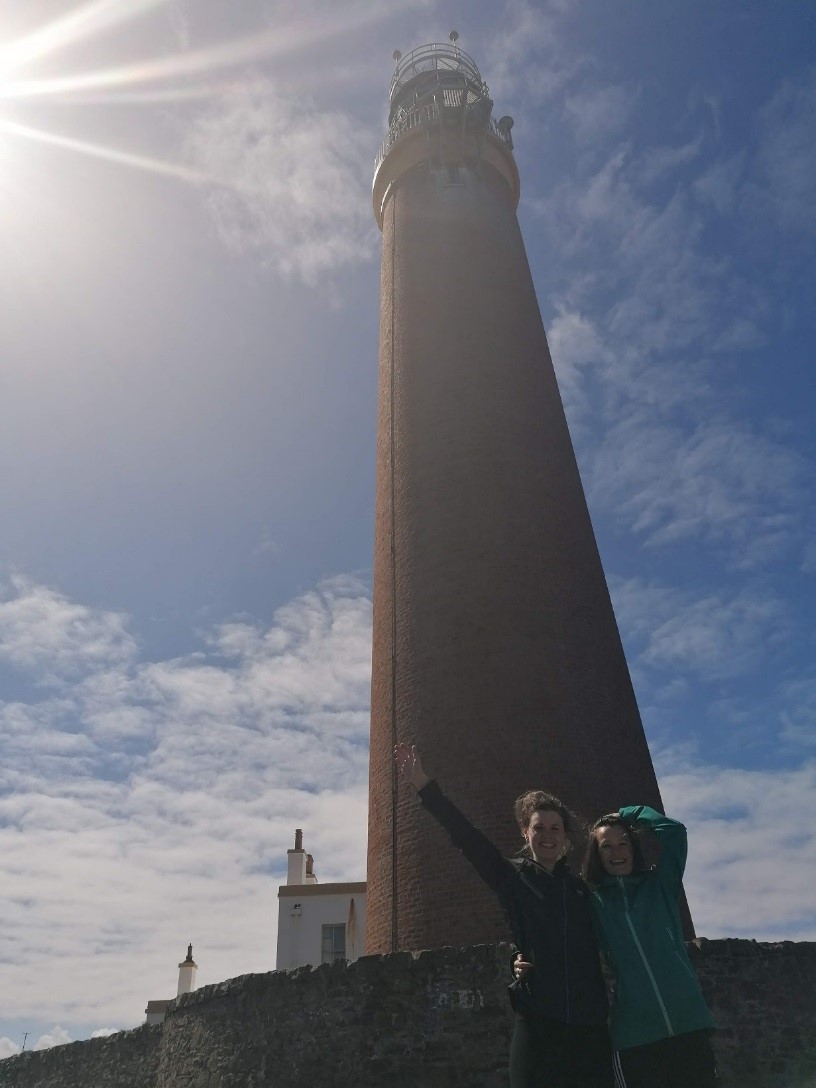 I highly recommend doing this trip if you have the time ( make time ) – we did it in 4 days and 3 hours on the 5th – with 2 travel days (inc 5th). Of course this can be done by car but by cycling you can push yourself to achieve something you never (and I never) thought I could do! So good for my physical health and also just as important – mental health.  And you get to meet all the locals and cyclists along the way.
Side note on the people – there wasn't a car or lorry that went past that didn't wave back and sometimes even the odd toot or lorry honk! (You can imagine me waving like a looney) but it made such a difference to our trip and kept the smiles going. Everyone made such an effort in the places we visited – to make us feel welcome and start up some good chat. Even while heaving up a huge hill – a wee lady popped out of her cottage to offer us a cup of tea. We sadly had to decline as we had miles to cycle!
Our group of ladies were a total laugh and equally as mad as me – so weird dancing on the beaches etc happened. A lot.
All in all we covered over 200 miles due to quite a few detours. The standard is 185 miles bottom to top. Always go South to North because of the wind!
I hope you have enjoyed my ramblings and maybe it's sparked a thought for you to want to get out there yourself – doesn't have to be a massive cycle just yet, but little by little too!
Ana
Share