Interested in attending live sport in Edinburgh? Jess is here to provide the lowdown on what's on offer.
One of the things I've enjoyed the most about being in Edinburgh is the quality of sports events that you are able to go to in the city and surrounding area.
The home of Scottish rugby, Murrayfield, is located in Edinburgh. The stadium is within walking distance of the city centre but there is also a tram available for those who do not want to walk. On the way up to the ground, you'll see multiple bagpipers busking, which adds to the matchday atmosphere.
At Murrayfield, you can watch Six Nations games if you're lucky enough to get tickets. It is expensive to go to a Six Nations match but there is the far cheaper option of the Autumn Internationals. The added bonus of the November matches is that they are not as popular as the Six Nations, so you are more likely to get tickets. Even if you can't get to the game, the atmosphere in Edinburgh on a rugby weekend is something special.
I was fortunate enough to attend the Scotland versus Australia game at Murrayfield last November. I'm not a massive rugby fan but the experience of seeing it live was so much better than watching it on the television. Scots love their rugby and being able to see the fans cheering their team on was highly enjoyable.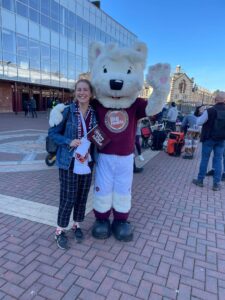 Aside from rugby, the other sport I have been to see live in Edinburgh is football. Edinburgh is home to Hearts and Hibs, both teams in the Scottish Premiership. I've been to three Hearts games and am hoping to get a ticket to see them in the final of the Scottish Cup at Hampden Park in Glasgow in a few weeks. I'm a die-hard Cheltenham fan so it's been nice to watch a team that can play football better than your average English League 1 team. My ticket at Hearts also costs roughly the same amount as my tickets to Cheltenham. The quality of the football is not the same as the top English teams but I don't think it matters as the fans and players are as enthusiastic as elsewhere.
If you want to see the big Scottish teams, Celtic and Rangers, then Glasgow is only a short train ride away. They do play away matches at Hearts and Hibs, but it is worth noting that you need a booking history to watch one of the so-called "bigger" teams play in Edinburgh.
If you don't like live sports or prefer things like Formula One and boxing, then there are a lot of indoor venues to watch these events on TV. Pubs like Three Sisters and Pear Tree have enormous outdoor screens that regularly show Premier League matches and other sports. Both of these places also have smaller indoor screens, as do so many of the pubs around Edinburgh. If you're looking to watch a Scotland game in the Six Nations at one of these venues, make sure to book well in advance.
Overall, sports fans have a lot to look forward to in Edinburgh.