Celebrating Pride: Exciting June Events
Celebrating Pride: Exciting June Events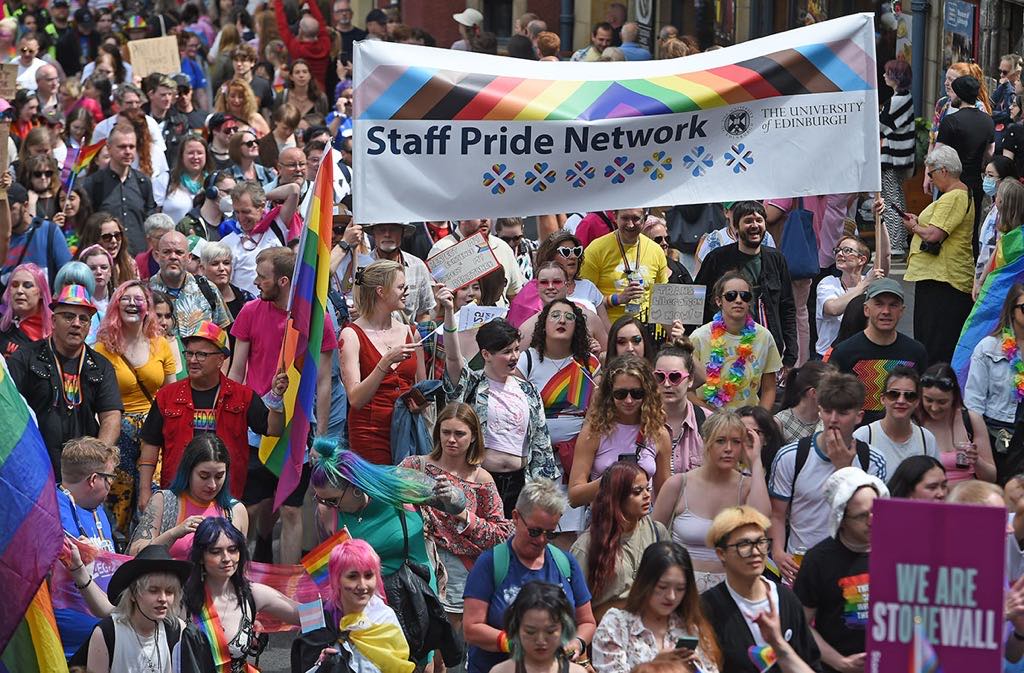 Hello SPN Members,
This June, we have a fantastic line-up of events to celebrate Pride Month. From discussions and seminars to performances and marches, there's something for everyone. Here are the details:
Queer Neurodivergence and Synesthesia: Podcast Discussion with Maike Engage in an enlightening discussion with Maike, a queer neurodivergent psychologist and synesthesia artist. Topics include being queer and/or neurodivergent in Edinburgh/Scotland, accommodating queer and neurodivergent students/staff at universities and workplaces, synesthesia, and more. Interested? Contact Maike via email at synesthes_a@outlook.com.
Little France Pride March Join the LGBT+ Staff networks for NHS Lothian and the University of Edinburgh, along with the Edinburgh Children's Hospital Charity for the first Little France Pride March to celebrate the start of Pride Month. The march will begin at 13:30, with participants encouraged to bring flags, banners, and face paint. Additionally, stalls from various staff networks will be available from 13:00 to 15:00 at the Chancellor's Building reception. Even if you're unable to participate in the full 1-mile march, come along to learn more about the support available for LGBTQI+ staff and allies. Date & Time: Friday, 2nd June 2023, Stalls open from 13:00 to 15:00, March begins at 13:30 Location: Chancellor's Building Reception, University of Edinburgh More information and tickets: Eventbrite Link
Sex Education Xplorers at Summerhall: 3rd June A brilliantly performed, funny, and inclusive show, "Sex Education Xplorers" explores the fluidity of sex and gender. The show is performed by the husband of an SPN member and starts its tour of Scotland at Summerhall at 2pm and 6.30pm on Saturday, 3rd of June. Find out more here.
Pride, Protest and Place series: Creative Writing and Protest. Multiple dates: 5th & 6th June 2pm, sign up here. This is a creative writing workshop that will incorporate historical material from the Lothian Gay and Lesbian Switchboard archive. Workshop Co-Ordinator, Eloise Birtwhistle, will talk you through a range of writing exercises and you will explore the themes of queer protest and resistance.
Finding Our Past: How We Collect, Describe, Access, and Use LGBTQ+ Archives Join us for an online symposium on 7th June 2023 from 10:00 to 13:30 BST. We'll explore themes from our project, such as confidentiality and accessing sensitive material, and discuss how we collect, describe, access, and understand information about the history of LGBTQ+ lives. Project Archivist Louise Neilson will be joined by Hannah Elizabeth, Stefan Dickers, Nicola Maksymuik, and Elliot Holmes, along with Keith Paterson, a former member of the Lothian Gay and Lesbian Switchboard. For more information and to book your place, please visit: Eventbrite
"You are beautiful just the way you are" LGBT+ Inclusive Service: 8th June An inclusive service at the Chaplaincy from 2-3pm, focusing on self-love and acceptance. Get your tickets here.
Pride, Protest and Place series: Zine Making! Multiple dates: 12th & 13th June 3.30pm sign up here. This is a zine making workshop that will incorporate historical material from the Lothian Gay and Lesbian Switchboard archive. Workshop Co-Ordinator, Eloise Birtwhistle, will provide a short introduction in to what zines are and how they have been used in the past, and will guide you through how to get started on making your own!
"Abuse That Dare Not Speak Its Name" Seminar: 14th June Join us for a seminar talk and launch event discussing gay men's experience of intimate partner violence at the Apex Hotel, Waterloo Place, from 5-6pm. Reserve your spot here.
Bespoke Tour of the Pleasance Sports Complex

The Sports Union is organising a bespoke tour of the Pleasance Sports Complex during Pride Month. This initiative aims to improve the health and well-being of all University staff by acknowledging and addressing the historic lack of support for LGBTQ+ individuals in sports and physical exercise.

Join us on Thursday, 15 June at 1:00 PM for a 30-45 minute tour of our sporting facilities. Renovations are currently going on in the facility but we can still access a number of spaces. The aim of the tour is to showcase what facilities we have as part of the membership options and what is available to staff, as well as making people more comfortable in accessing the space. We will also have rainbow lanyards and pronoun badges available.

To secure your place on the tour, please RSVP to Neil at

Neil.Rankin@ed.ac.uk by 2:00 PM on Wednesday 14 June. If you have any specific accessibility needs, please let Neil know in advance so that we can accommodate them accordingly.

The tour meeting point will be outside the entrance to the sports facility at 46 Pleasance (What.3.Words: ledge.spicy.train)

We look forward to seeing you on Thursday and celebrating Pride Month together!

SPN/EREN Book Club: 20th June Join us for our first in-person book club in collaboration with Edinburgh Race Equality Network (EREN) and SPN to celebrate Pride month. We'll be discussing Last Night at the Telegraph Club by Malinda Lo, a story of a young Chinese American girl navigating her identity and sexuality in San Francisco's Chinatown during the 1950s. The meeting will be held in central Edinburgh, with the exact location to be confirmed soon. Register here.
Wellbeing Walk and Bake Sale at Edinburgh BioQuarter As part of the Pride Month celebrations, Edinburgh BioQuarter is planning to host a wellbeing walk and bake sale on the 22nd of June. More specific details, such as the time of the event and the chosen charity, will be announced soon. If you'd like to contribute a cake for the sale, please get in touch with Dom Cairns-Gibson at Dom.cairns-gibson@ed.ac.uk.
Banner Making for Pride Edinburgh: 22nd June Join us at Potterrow Dome from 4-6pm to create banners for the Pride Edinburgh March. Book your spot here.
Edinburgh Pride March: 24th June We'll meet at Levels cafe on Holyrood Road from 11.30am, then walk down to Holyrood Parliament for midday. Wear your SPN t-shirts and join us in the march. For the complete route, click here. We will have the big SPN banner (see photo above) so all can find us along the route or if you want to meet us at the end by Bristo Square there will be the SPN stand in the window of the Informatics building on the Charles Street side near the brass Rino's head (on the wall). We'll be collecting people from there if you want to go to the SPN chillout space.
The BioQuarter LGBTQ+ Staff Committee is holding a Bake Sale, 11-2pm on Thursday the 29th June in aid of LGBT Youth Scotland. If anyone would like to contribute a cake to the stall, then that would be hugely appreciated, and they can be dropped off in the Chancellors foyer any time after 10:30 am tomorrow. They will also be giving out free pride lanyards and pronoun badges (first come, first served).
In addition to these exciting events, don't forget our recurring monthly socials:
SPN Evening Social: First Friday of the Month Join us for great conversation at The Royal Dick Bar in Newington every first Friday of the month at 17:30. Next date: July 7th, 2023.
SPN Kings Buildings Coffee & Cake: Third Wednesday of the Month Join us at Magnet Café, Edinburgh at 13:00 for free cake and enjoyable company. Next date: June 21st, 2023.
SPN Central Coffee & Cake: Last Wednesday of the Month Meet fellow SPN members at Bayes Café, Edinburgh at 13:00 for free cake and good chat. Next date: June 28th, 2023.
SPN Virtual Social: Last Wednesday of the Month Can't make it in person? Join our virtual social at 13:00 BST to connect with friends and colleagues. Next date: June 28th, 2023.
Trans and Non-Binary Meetup: 4th Thursday of the Month A safe space for trans and non-binary staff and PGRs to meet, chat, relax, and discuss relevant issues. Held at The Auld Hoose, 5:30-7:30pm. Next date: June 22nd, 2023. RSVP here.
Please remember to keep checking our social media and email updates for any additional events that may be added. Let's celebrate Pride together in the best way possible – by being our true selves!
SPN Comms & Media Team
Requests:
When putting together a Pride Month display, Moray House Library staff noticed a lack of children's books with LGBTQ+ themes. Our Academic Support Librarians are now looking into purchasing titles to add to the collection. Please send us (at StaffPrideNetwork@ed.ac.uk) any recommendations for timeless LGBTQ+ children's books that you think would make a great addition to our shelves – and feel free to drop by the library to check out our display which includes LGBTQ+ books on Education and Sport.
Media available for Advertising:
📣 Attention #LGBTQ+ community! A research study is being conducted to understand how minority stress and childhood experiences affect depression. If you're over 18, fluent in English, and identify as LGBTQ+, your insights are needed.
🔗 Take the 10-minute survey before the end of June: https://edinburgh.eu.qualtrics.com/jfe/form/SV_6xIkNUowfxdolhk?Q_CHL=qr
⚠️ Content warning: The survey includes questions about traumatic experiences.
📧 Questions? Email: s1530227@ed.ac.uk
This research is approved by the University of Edinburgh School of Health in Social Science Ethics Committee. #Research #MentalHealth #LGBTQResearch #PrideMonth
Share