Rainbow background images for video conferencing or slides
Rainbow background images for video conferencing or slides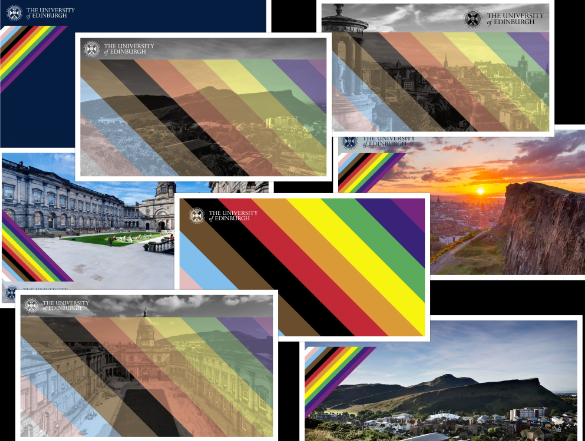 The designs taking inspiration from our Flags Survey results, we are delighted to present new Teams backgrounds which are available on the University website and saved in the Staff Pride Network Members SharePoint for you to download. Please add to your Teams (now!) and consider using these as backgrounds for lectures and meetings, both internal and external meetings.
"We are really pleased that these backgrounds play a small but welcome part in emphasising the importance of diversity and inclusivity at our University."
Niall Bradley, Deputy Director of Marketing, The University of Edinburgh
As we continue to work with the University to increase awareness of the importance of Equality, Diversity & Inclusion, tools for all staff and students to show support and allyship are key to that journey.
In this digital age where Rainbow Lanyards are less visible, rainbow lanyard Teams backgrounds were proposed by Melissa Highton, Director of Learning, Teaching and Web Services and Assistant Principal Online Learning at ISG, which became a (lengthy, multiple emails) very senior management collaboration between Katie & I for the Staff Pride Network, ISG graphic designer and SPN graphic design volunteer Gill Kidd, HR's Head of EDI Caroline Wallace, with final designs and corporate approval by University Communications & Marketing, including Head of Brand, Head of Marketing, Deepthi de Silva-Williams and Deputy Director of Marketing Niall Bradley.
Available to download "(Virtual backgrounds (zip)" from https://uoe.sharepoint.com/sites/Brand/SitePages/Branded-environment-(digital-&-virtual).aspx
Mark Pace has also kindly shared his two PowerPoint templates masters using these designs:
Share