Trans Day of Remembrance Vigil
Trans Day of Remembrance Vigil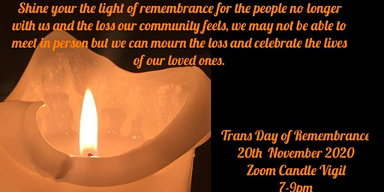 On the 20th November 2020 the Glasgow Mission, Order of Perpetual Indulgence created a safe space of remembrance and celebration of the lives lived as well as lost. They honoured those past in spoken word, poems and music.
The hosts lit candles and asked attendees to light a candle or shine a light in this dark time. They said the names of those past and remembered the life they lived and mourned their passing as a community. We could not meet our loved ones during this pandemic but we came together online in remembrance.
Following a minute of silence for those lost, we had a minute of noise to celebrate their lives and contributions.
Share