Rainbow Lanyards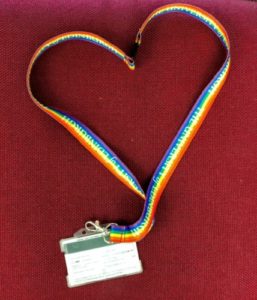 We have been overwhelmed by the enthusiasm for our Rainbow Lanyards and are delighted that the latest batch of 4000 Rainbow Lanyards has been delivered. Our RL Distribution Team of 6 has a small backlog at the moment, and will send out your order as quickly as they can. Any help with this would be appreciated. If you'd like to help, let us know!
Of the 4000 lanyards already delivered, Card Services have funded 1400 for new staff who will be able to choose between a blue and rainbow lanyard; Finance, Student Wellbeing, ISG Library Services and Informatics have paid for 700 lanyards for their own staff; Finance, Card Services and Social Responsibility & Sustainability have donated 1400 to the Staff Pride Network for us to supply others throughout the University; and the shop ordered 500 to sell at a reasonable £2 to students, alumni and members of the public.
We were even contacted by an Edinburgh Business School PhD student who wanted to wear one of our rainbow lanyards to her viva!
What does your Rainbow Lanyard mean to you?
Share