I am currently studying a Masters in Social Work at the University of Edinburgh. Thanks to Dr.Sumeet Jain's (Senior Lecturer in Social Work) recommendation to read the "Mad in America" magazine, I came across a radical, medication free treatment option for people within Norway's public psychiatry system. In the "Mad in America" magazine, I discovered an article on Åsgård, a psychiatric hospital offering a medication free treatment for people with a diagnosis of psychotic disorders and bi-polar in Tromsø, Norway. Thanks to my approved application for funding from the Go Abroad Fund https://www.ed.ac.uk/global/go-abroad/go-abroad-funding, offered by the University, it enabled me to follow my curiosity and covered the cost of my flights and accommodation. I was afforded the opportunity to visit the hospital to see this treatment in practice.
The medication-free treatment interested me because I have worked with people who have had complex mental health needs in both Éire (Ireland) and Aotearoa (New Zealand). Generally, the approaches I observed were predominantly orientated around the medical model. The medical model frames the cause of an issue as biological or physical and medication is generally the primary treatment form. For example, the rational is that a neurotransmitter issue is causing the presenting symptom which is treatable with medication. While the medical model has its merits there are criticisms of using this model exclusively within the context of mental illness. It fails to incorporate the complex psycho-social factors within a person's life. The medical model perceives the illness as a deficit of the individual, which can be pathologizing.
In my previous work experience, some of the people I have supported did not want to be on medication and complained of the side effects. The medication they were prescribed did not "cure" their symptoms. They were in repetitive cycles of unwellness which led to admission, which led to an increase in medication, and repeat. For some people, medication treatment is necessary, life-saving describe it as beneficial. However, I began to question when it doesn't work for some individuals, why is it the only option on offer? I've occasionally observed that when someone refuses their medication it can be viewed by professionals as a symptom of the patient's illness.
I was very curious and excited to visit Åsgård hospital in Tromsø, Norway that was offering medication-free treatment within their public health system. The reason for my excitement and curiosity was because a medication-free treatment offered a different route to recovery, as opposed to the medical model which primarily relies on medication. I wasn't the only one interested, people from all over the world were either requesting treatment or were professionals asking to visit. Some of the questions I had on my mind when arriving to Tromsø were; is it successful for the patients? And how are they delivering the treatment?
The hospital I visited has a ward with six beds offering medication free treatment to patients from one region. It is important to note that the patients the hospital treat are very motivated to be there. The patients being treated are not in current acute psychosis, nor are they experiencing severe suicide ideation. Patients generally stay two to three weeks at a time and are engaged with the team as long as the patient feels necessary. The majority of the patients who come, are on medication and wanting to taper down, or come off medication altogether. This is a lengthy process and can take anywhere from six months to three years. The general report back from patients is that they experience getting their own thoughts and feelings back, which is of value to them.
I spent two days at Åsgård hospital, and I was included in every aspect of the daily schedule. This was thanks to the organisation skills of the two lovely clinical social workers who worked there, and their desire to share and open up this treatment to other professionals. The schedule included attending team meetings, speaking with members of the team individually, observing the recovery workshops with patients, and chatting with a patient.
The first thing that struck me about Åsgård hospital was the beauty that surrounded it, built along a shoreline and surrounded by mountains. The opposite of other psychiatric wards I have visited. This was the view each patient had from their rooms…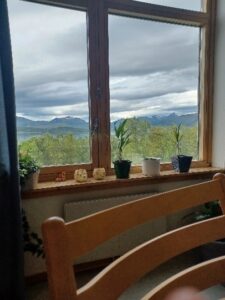 Pictured below is a cabin the staff and patients assembled and painted themselves. During the winter they come out to the cabin to light a fire to cook food, and it can be used for therapy sessions.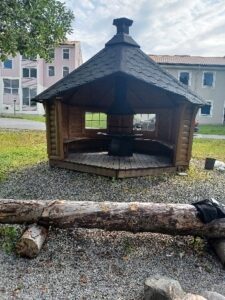 While I was in the hospital a patient decided to share her experience with me. This patient (let's call them Maria), felt it important that a patient's perspective should be included in the discussion of medication-free treatment, and agreed I could share our discussion in this written piece. Maria said that she became unwell in her early teens and was then placed on medication. The years through adolescence that Maria was on the medication, she described as a "nightmare", with no benefits and she fears the long-term impact of this. When the symptoms of Maria's initial unwellness weren't changed by medication, the medication was increased or added too. Maria said that she was never asked about her symptoms, or had any open dialogue about them with her treatment team. Maria's recovery pathway was primarily to take her medication. Maria described that when she stayed in psychiatric hospitals with locked wards, it created dependency and loss of autonomy for her. Maria said this was because staff did everything for her and this made her recovery challenging.
Maria said coming to Åsgård hospital was scary because, for the first time, she was asked what she wanted, something she had never been asked before. Maria was told that she was responsible for looking after herself, which she believes is more helpful in the long run compared to her previous experiences. Maria spoke about how this hospital focused on her strengths and on what she could do. Maria started to explore her symptoms for the first time with her professional team. She began to ask questions about the voices she heard in her head, and what it might mean. Maria said the main difference is that this hospital is focused on recovery and there is nothing they can't talk about, which is very helpful. I asked what recovery meant to her and she responded it was to find out who she is, without being under a haze of medication. Being on medication from an early age Maria said she doesn't know who she is, but now she can start to find out.
I asked Maria what she thinks is important for other people to understand about this model of medication free treatment. Maria explained that she is the youngest patient staying on the ward, and a lot of the people who come here are much older. The older patients have spent most of their life on medication, and they feel as if they have missed out on their life. Maria said it's sad that young people are not given a choice about medication. Maria attributes her quality of life completely changing for the better with coming off medication and coming to Åsgård. Maria can do things now that she wasn't able to do before. Maria recognises that of course some people need to be on medication, but not everyone does. Maria said it's sad to think how some people's lives are being taken away from them. Taken away from people, who with the right support, are capable of recovering without medication and forced treatment. Maria has become active in her treatment instead of being coerced. Maria believes that choice should be available for other young people and wants to share that message.
My initial question of "how are they delivering the treatment?" was answered by observing and speaking with the staff and patients. These interactions affirmed my own belief and gut feeling that one of the most influential or powerful "tools", is treating people who have a mental illness like humans first and foremost. With respect and dignity. Seeing the individual and their humanity, not the stigma and assumptions attached to their diagnosis. Exploring symptoms with the individual and what they might mean specifically for that person, as opposed to just logging them on a system. When speaking with the Experience Consultant (peer worker) he emphasised the power of healing within authentic relationships. He spoke about building professional relationships with patients where they feel safe and can trust the team. The patients feel like they can be open about their symptoms, which is often accompanied with a sprinkle of humour. This open dialogue with a trusted member of the team is difficult to quantify, but the experience consultant described how you can observe this internal shift within patients when it occurs. Personally, I think these relationships are pretty powerful medicine. Particularly when you consider how marginalised some of these patients may feel due to the stigma attached to these illnesses.
Based on my learning from this trip my primary question changed from "Is it successful?" to 'why isn't there a choice'? I learned that the medication free option is not the silver bullet for psychiatry and mental illness. The symptoms are still there for some. They aren't "cured". However, in this safe and trusting environment patients are able to discover their own internal capacity to manage the symptoms and self-regulate. It's hard but incredibly meaningful to them. It's a life many would prefer to live, over a life of coercion and disempowerment. This approach is so much more than a question of successful outcomes. A medication-free approach is about a person being able to exercise their own autonomy, their own right to choose and their dignity, which fundamentally can change people (like Maria's) direction and quality of life.
So…. Do you think it's a bit mad that there isn't choice for more people?