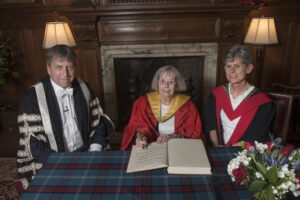 We were all very sorry to hear about the death of Joyce Lishman last week. Joyce was one of those special people. Not only was she an academic leader, teacher, researcher, publisher and writer, she was also a proud social worker, and it was her mission throughout her life to make social work and social workers the best they could be.  But even that does not tell the whole story. Joyce was a devoted wife, partner and mother, and a loyal friend – a genuine human being who was modest about her many achievements and who genuinely cared about everything that she was involved in.
Joyce graduated from Oxford University in 1968 with a degree in Politics, Philosophy and Economics. She subsequently came to the University of Edinburgh where she undertook a Diploma in Social Study, followed by a Diploma in Social Work, graduating in 1970. She then worked as a social worker for many years, firstly in child and family psychiatry in Edinburgh, and then moving to Aberdeen where she worked on a research project investigating social work practice. The methodology used in this research as ground-breaking at the time in its use of video to analyse social work interviews. This research became the subject of her PhD at the University of Aberdeen. Joyce went on from this to develop a new social work service for children with cancer or leukaemia and their families, and a bereavement service for families where a child had died.
In 1985, Joyce joined Robert Gordon Institute of Technology, Aberdeen, as a Lecturer in Social Work and was later promoted to Senior Lecturer. By 1993, she had become the first woman Professor at what is now called Robert Gordon University (RGU) and Head of the School of Applied Social Studies, a position she held until her retirement in 2011. During her time at RGU, Joyce continued to research and write on social work practice as well as leading in the development of social work education in Scotland. She was Chair of the Heads of Social Work Education Group for a number of years, and through this work, promoted much stronger links between social work programmes and with the Scottish Government. She also played a key role in the development of knowledge within social work worldwide, through her editorship of the pioneering book series, 'Research Highlights in Social Work', published by Jessica Kingsley in London. This series not only put social work research in Scotland on the global map, but also contributed to the creation of a firm evidence-base for social work policy and practice across the world. Joyce was responsible for taking 26 books through to completion, on subjects as diverse as co-production, child protection and women offenders. But it was her writing on practice learning and on communication that has probably had greatest impact on the profession. Students, practice educators and social workers themselves all remember fondly what they learned from Joyce, as the flurry of tweets over the last week demonstrates.
In retirement, Joyce continued to champion social work through her appointment as council member of the Scottish Social Services Council. She also developed her connections with the voluntary sector in Scotland. She was a co-founder of the venture philanthropy organisation, 'Inspiring Scotland', as well being a Director of the 'Aberlour Childcare Trust' and a trustee of 'Voluntary Services Aberdeen'. In 2018, as part of its social work centenary year, The University of Edinburgh awarded Joyce the Degree of Doctor honor causa, in recognition of her contribution to social work and social work education worldwide.
When Joyce was invited to write her story for our centenary pages, she was asked what her thoughts were, looking ahead. Her response was so 'Joyce'. She said, "Times are tough for new graduates…"
Viv Cree
Emerita Professor of Social Work Studies
The University of Edinburgh
2nd February 2021
If you want to read more about Joyce please see our Centenary Alumni pages http://www.socialwork.ed.ac.uk/centenary/people/alumni/joyce_lishman