Reading Time:
3
minutes
Louise Nicholson (MA 1976) has been in solo isolation since 18 March. Amidst the collapse and rethink of her freelance career, she lent her sewing skills to a common purpose, discovering community spirit and her own resilience in the process.
Degree: MA History of Art, 1976
Current treasured object: My little walled garden just off the western edge of the Cotswolds. With our springtime lockdown plus amazing weather I've been giving it love but it gives back many times as much in shoots, buds and blossoms. Nature's rhythm and positive attitude is so reassuring. It's definitely helped me through.
Song of the moment: Stevie Wonder's 'Isn't She Lovely', written in 1976 when he had a child. It's full of joy and hope.
With lockdown, my freelance career stopped dead. I'd been devising tours to India for private clients and leading groups there since 1985. Fortunately, last year I started thinking about moving more slowly round India to enjoy a deeper experience, and I did some research. In lockdown, I've launched my blog 'Unpacking Wellness in India'. It's about finding your personal kind of wellness – nature walks, cooking, spa, yoga, birding, ancient monuments, local village market, making pottery, or simply enjoying relaxing in peace.
What was more important than re-thinking my career during the pandemic was how utterly useless I felt just "staying at home" until I heard about ScrubHub on 14 April on the radio.
The grassroots initiative was founded by three women in Hackney, East London, to make doctors' scrubs (shirt, trousers, and a bag to put them in for washing after the shift) for NHS and medical workers.
I joined my local hub, got out my sewing machine and started sewing. Then I felt useful. They were fairly complicated to make, which took my mind off over-thinking the pandemic, missing family, etc.
My little hub at Stroud made 200 sets of scrubs, and what I had not expected was the great community spirit of our group messages on WhatsApp.
My group was part of the Gloucestershire hub with headquarters in Cheltenham. On 31 May we were told scrubs were being produced in enough quantity and we could stop. In all, Gloucestershire volunteers had made more than 4,000 sets of scrubs, with a volunteer team of more than a thousand cutters, sewers, drivers and administrators. We planned a party for after lockdown. It was a good feeling that together we'd used our different skills to make a difference.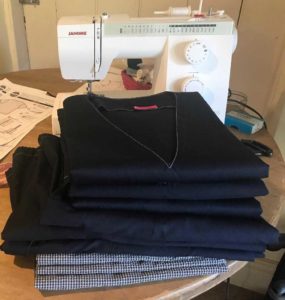 My little hub at Stroud made 200 sets of scrubs, and what I had not expected was the great community spirit of our group messages on WhatsApp. We also planned our own party so we could put faces to the names asking, "Do you want the buttonholes in the same colour?" Or, "Please can someone explain how the side slits work?"
One person wrote about the joy she got out of "using our skills together to a common purpose". Another simply wrote at the end that she felt "like we were doing something to help has been a mental lifesaver. I could have just slumped into hibernation". I agree.
Then, on 5 June our ScrubHub leader told us they needed more scrubs after all! So we all made the number they needed, a sort of coda to the project.
Through this experience I've learnt that I'm more resilient than I thought, though of course in solo isolation I've had down times. I'm also learning that if you grow vegetables then they – not you – decide when they are ripe and you should eat them! I've realised I have a gift for cheering people up, so when I call family or friends who are having a tough time they always end with "Oh, Louise, you do cheer me up and give me a laugh".
One of the vital things I've learnt during the pandemic is that each of us needs to put in the effort to build a number of friend groups in different parts of our lives.
Looking forward, I want to be more engaged with my local community. The United Nations has reported that violence against women and girls has intensified since the start of the pandemic, so I want to learn how to help women survivors of abuse, to encourage them to come forward and to give them strength, dignity and protection.
Louise Nicholson started her career in the heritage and arts sectors. She catalogued Indian and Islamic art at Christie's and was mesmerised by India and all its complex richness. After going freelance, she cut her journalist teeth on The Times's arts pages and wrote guidebooks to first India, then London. While writing in newspapers and magazines, plus adding two dozen more books, she honed in on arts journalism and all aspects of India.
The Shadow Pandemic: Violence Against Women and Girls and COVID-19 (UN infographic)