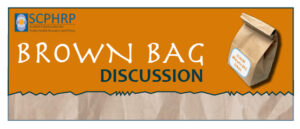 Brown Bag Lunch Series
Due to the COVID19 situation, our Brown Bag Lunch series are paused for just now but we hope to return with an exciting line-up of speakers as soon as we can.
Brown Bag Lunch series is an interactive forum for subject matter experts to provide their thoughts about research, policy and practice in areas surrounding public health. Cutting-edge and controversial opinions are welcome!
Episode 4:
Episode 3:
Episode 2:
Episode 1: