Cit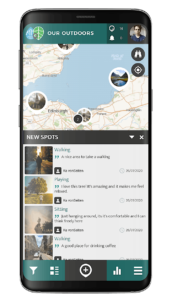 izen science is underused in public health, but has the potential to create greater interaction with, and agency for, communities around issues which directly affect them. It can provide data from small areas which can be used for small area decision making, or aggregated for larger policy making or research projects.
Our Outdoors is a citizen science project which aims to find out more about what citizens and communities experience when they are in public spaces such as parks, beaches, canals, and town squares. It was developed by researchers in the Scottish Collaboration of Public Health Research and Practice (SCPRHP) at the University of Edinburgh in partnership with Sustrans, and citizens. The objectives of the project are to help communities, policy makers, decision makers and researcher understand:
· Which public spaces give people feelings of well-being and which do not
· Whether public outdoor spaces affect people's wellbeing differently
· Whether changes to the outdoor spaces (such as planting trees, putting in paths) result in people feeling better in them.
This seminar will provide an overview of the App, how to use it and some of the ethical or research considerations needed when collecting data and using the data. To download the App and try it out, go here. https://www.spotteron.com/ouroutdoors/info.
Prof Ruth Jepson is Director of SCPHRP and a Professor of Public Health in the School of Health in Social Science, University of Edinburgh. She is co-Director of the GroundsWell Consortium (https://ukprp.org/what-we-fund/groundswell/) and a co-Investigator on PHIRST Fusion https://phirst.nihr.ac.uk/ She is particularly interested developing and evaluating complex interventions and in undertaking research in partnership with service providers and users and has recently written a book on the subject with other members of SCPHRP (Developing Public Health Interventions)
To listen to the recording press here
Share