We are proud of the enormous contributions of staff and students during the COVID-19 pandemic.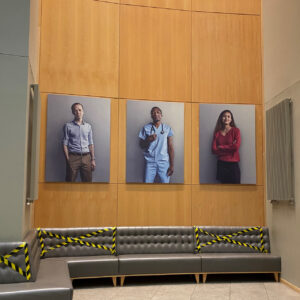 Working with Edinburgh-based photographer Laurence Winram, we commissioned 13 portraits to shine a spotlight on the massive team effort behind this response – from clinical, research, teaching, technical and professional services.
The individuals highlighted represent staff and students who have worked tirelessly throughout the lockdown and beyond in response to this unprecedented challenge.
Six of the images are on display in the Chancellor's Building foyer now and the full collection is due to be displayed in the Elsie Inglis lounge shortly. We also hope to arrange a mobile exhibition of the portraits, which will be available for display across all CMVM campuses in the new year.
You can see the full collection below and read on for the biographies of those pictured.
Biographies
Elson Musenga
Elson is a Class of 2020 medical student who graduated early to become an interim Foundation doctor and join the NHS effort to tackle COVID-19. He worked at the Royal Infirmary of Edinburgh in the Medicine for the Elderly Department during the pandemic.
Elson represents our students who graduated early and current students who gave up their holidays to boost the NHS workforce and community response efforts.
Angela Ingram
Angela is Operations Manager at the MRC Institute of Genetics & Molecular Medicine (IGMM). Angela led on logistics to allow the COVID-19 testing centre to be set up at the IGMM.
Angela represents all of our colleagues working in building management and logistics who made it possible for our buildings to be fit for purpose in the University's response to COVID-19.
Kev Dhaliwal
Kev is Chair of Molecular Imaging and Healthcare Technology and an Honorary Consultant in Respiratory Medicine. He established an interdisciplinary team from the Centre for Inflammation Research with other universities and industry, who were re-deployed to work on the STOPCOVID project. The initiative aims to test existing and experimental drugs to find potential treatments for COVID-19.
Kev represents our researchers and professional staff working to identify COVID-19 treatments.
Kenneth Baillie
Kenny is an Intensive Care Consultant a Senior Clinical Research Fellow in Anaesthesia & Critical Care at the Roslin Institute.
He leads a research programme across the UK to understand the new disease and to find genetic determinants of critical illness.  He also helped steer the RECOVERY trial, the UK's flagship clinical trial for testing potential COVID-19 treatments, and contributed to the discovery of the first effective treatment for life-threatening COVID-19, dexamethasone. Kenny also supervises both undergraduate and postgraduate students and lectures current students.
Kenny represents our researchers and clinical staff working to better understand Covid-19 and trial new treatments.
Gwenetta Curry
Gwenetta is a Lecturer of Race, Ethnicity, and Health in the College of Medicine and Veterinary Medicine, based in the Usher Institute and a member of the Global Health Governance Programme and UNCOVER project.
Gwenetta represents all of our colleagues whose work has highlighted major health inequalities that the Covid-19 pandemic has further brought to light and who have called for action from governments and policy makers.
Spela Oberstar
Spela is a pharmacist at the Dick Vet Hospital for Small Animals and a played crucial role in keeping veterinary treatment going during the pandemic.
Spela represents all at the Royal (Dick) School of Veterinary Studies who worked tirelessly to keep the hospital functioning and provide clinical services.
Devi Sridhar
Devi is Chair of Global Public Health and Director of the Global Health Governance Programme. She worked as an advisor to the UK and Scottish governments during Covid-19 and has given extensive media interviews to help the public better understand the pandemic. She also supervises PhD students and manages a team of student researchers working on COVID-19 analysis.
Devi represents all our staff who have given their time to provide expert advice to governments and the media, and helped shape public understanding of the pandemic.
Sarah Henderson
Sarah is Director of Postgraduate Taught Education for the College and is also the Programme Director for the Clinical Management of Pain Masters programme.
She represents all of those working in postgraduate education, both on-campus and on-line, who have worked hard to provide an exceptional learning environment to all our students, regardless of their location or programme of study.
Linda Bauld
Linda is the Bruce and John Usher Professor of Public Health at the University. Throughout the pandemic, she has provided expert advice to governments to help inform their responses to COVID-19. She has also given extensive media interviews, helping the public to better understand the rationale behind restrictions needed to prevent virus spread.
Linda represents colleagues working in public health policy and behavioural science, who have given their expertise freely to governments and the media during the pandemic.
Jennifer Marshall
Jennifer is a Research Assistant interested in infectious diseases, working in Professor David Dockrell's research group.
Since the COVID-19 pandemic started, Jennifer has been involved in the set-up of the new containment level 3 laboratory on the Edinburgh Bioquarter campus. This new facility enables researchers to work on pathogens that have higher health and safety requirements, including work on SARS-CoV-2, the causative agent of the current coronavirus pandemic.
Rowland Kao
Rowland is the Chair of Veterinary Epidemiology and Data Science at the Roslin Institute. He played a lead role in the research and modelling efforts at the University that helped track the spread of the SARS-CoV-2 virus.
He represents the epidemiologists and data scientists who have contributed their expertise to the COVID-19 response.
Alan Gilchrist
Alan is part of the College Information Services team. He has provided vital support across CMVM for the transition to online and hybrid teaching since the start of lockdown and beyond. These include working with the NHS to ensure access to University resources, leading the Media Production Studio rollout, and developing solutions to ensure exams could be taken securely online.
Alan represents colleagues in professional services, who work incredibly hard to support our teaching staff to continue delivering a world-leading education for our students.
Derek Mills
Derek is the Stores Manager at IGMM, and played a key role in the success of the IGMM testing centre.
Derek represents those working in stores, servitorial staff and security, who made the College response to COVID-19 possible by helping to keep our research buildings open, safe and functioning.
About the photographer
Laurence Winram, based in Scotland, is a commercial and fine art award winning photographer with many years' experience.
Laurence's unique style is called on by clients from New York to Singapore and Cuba. When not shooting commercially, he is never to be found far from his camera with a constant stream of personal fine art projects keeping him busy throughout the year.
Visit Laurence's website http://www.lwinram.com/
All images are copyright The University of Edinburgh/ Laurence Winram.