Researchers from across the College have played a leading role in organising and hosting the World One Health Congress 2020.
The conference was due to be hosted in Edinburgh this summer but with the ongoing pandemic, a decision was made to move the sessions to a new purpose-built virtual environment and deliver the event online, 30 October – 3 November.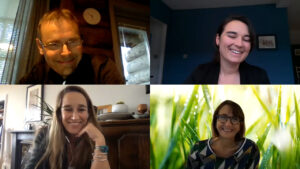 The logistical challenges of producing a bespoke virtual platform were met by One Health Platform, a not-for-profit organisation which runs the biennial conference. The scientific committee, which included numerous academics from across the University, was charged with producing the programme and responding rapidly to ensure sessions were relevant in the face of the ongoing One Health challenge posed by Covid-19. The University's contribution was coordinated by Professor Lisa Boden, from the Global Academy of Agriculture and Food Security, who also jointly hosted the conference.
More than 1700 researchers from 99 countries attended the virtual event, which opened with a message from the First Minister Nicola Sturgeon. Sessions covered topics ranging from the challenges of antimicrobial resistance, advances in vaccine technologies, coordinating disease surveillance and, of course, Covid-19.
Professor Lisa Boden said: "One Health is about the intersection between human, animal and planetary health, and never has that issue been in sharper focus than in the face of Covid-19. The World One Health Congress was a timely opportunity to bring together the world's leading experts across multiple disciplines to discuss new ways of tackling these challenges."
>> Read more about the conference on the new One Health blog