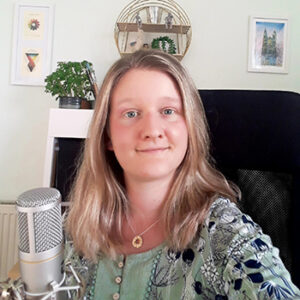 The Centre for Inflammation Research recently partnered with the British Society for Immunology to present a three-part animated series on the human immune system and how immune memories form in response to infections like coronavirus.
Producer Dr Lana Woolford, Public Engagement and Communications Officer at CIR and of Cloud Chamber Studios talks us through the process.
The idea for a series of animations on COVID-19 and immune memory sprang up back in early April 2020, just after the working from home era began and just before my PhD viva.
There was a huge amount of information, misinformation and animated content being shared about how the virus enters cells and the pandemic spread. But the only animation I had seen touching on the immune cells themselves got the facts wrong, mixing up information about coronaviruses with HIV. The main reason for the lack of good quality content was probably that immune responses are fiendishly complicated even for known diseases – there are so many characters and plot-lines to contend with, it's like a microscopic Game of Thrones playing out in your body.
They say that before you start a public engagement project, you should always ask whether you are the best person to run it. With links to the British Society for Immunology (BSI) for expert advice on public health messaging, an enthusiastic narrator and visual immunology communication expert in the form of Donald J. Davidson, an animator's toolbox and the backing of a Centre undertaking vital COVID research (CIR), I felt I could say 'yes!' with some degree of confidence.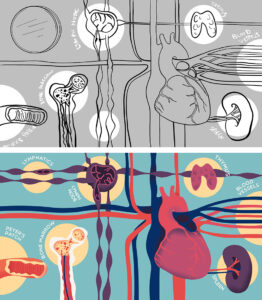 Creating animations
Creating good science animations always follows the same pattern:
1. Literature review
2. Script
3. Storyboard
4. Narrative recording
5. Artwork production
6. Animation
7. Editing
8. Final cut, video description and captions
Like good research however, the process is iterative rather than linear. I conducted the initial literature review over the course of a month. One of the challenges of script writing in this context was that the publication landscape was shifting on a weekly basis, which kept all of us on our toes throughout the project. I wanted to offer a series which was detailed enough to be of genuine educational use, without relying on COVID-specific details that may rapidly become out of date.
As the script was passed around research and science communications experts from BSI and CIR, I put together the storyboard. As a science animator the storyboard represents the most interesting and intellectually challenging part of the process. It has to bring together scientific accuracy; slick transitions; knowledge of software limitations; and visuals which appear, provide detail and reiterate the script's core messages. Where possible, it should also include boards that can be reused or tweaked as part of different scenes – this saves massive amounts of time when animating.
While Donald was recording the first version of the script, I set to producing artwork. You can see a few here as they progress from the storyboard, but what's not visible is the number of layers. Each animated element requires a separate layer: every cell, tissue section, limb and mechanism. Over the course of the project, this added to thousands of layers per animation file, which would frequently crash my poor laptop!
With narration files, artwork and music ready, I started to animate. This is a time-consuming process controlled over four dimensions, as instructions are given to stacks of 2D layers alignment with the voiceover, perhaps to rotate a little or move a few pixels to the left. Splitting the videos into banks of scenes helped to reduce file sizes – the separately rendered files could be sent for review and then stitched together as a final piece.
We had to rewrite some of the script, re-record all the narration and tweak some of the animation at short notice following research updates from the BSI Congress in early December. The whole project took 85 solid working days to complete, plus quite a few very late nights adding captions.
Feedback
I'm delighted by how well-received the animations have been. We've had almost 20k trailer views on social media, shares from Devi Sridhar and Chris van Tulleken, and offers of subtitle translations into ten other languages, which will make the videos accessible across the globe.
They've been a testament to the power of collaborative working, the flexibility, creativity and internationality of the University environment, the breadth of our COVID research and the importance of the public engagement professionals and willing researchers who work alongside them.
The story doesn't end here: we have plans for another piece arriving in mid-February, and plans to use clips from the videos as a springboard for better community engagement on topics like vaccines and immune health.