Hi, my name's Chen and I came from a northern city in China.
I think for me, the first time I have been aware of environmental protection was the day I found the paddy field where I used to play with neighborhood girls when I was little was gone, replaced by reinforced concrete. That made me realize the environment did affect human's lives.
Environmental protection is not exclusive to scholars or professionals, in fact, making it incorporated in our lives is the most effective way to achieve that goal.
The most impressive work of environment/social design is a social experimental project called – The 2 Euro T-shirt. It's a vending machine with tshirts for only 2€. After people inserting money and selecting size, they will see a video start playing on the screen. It's about how the women and children were exploited by sewing and working under life-threatening conditions without a break but only get 13 cents per hour. After 20 seconds, an option appeared on the screen – either continue purchasing the tshirt or donate the 2€ to Fashion Revolution instead.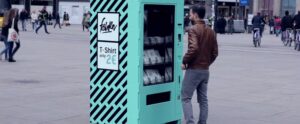 The project made a big success, about 90% of the people who initially want to buy the tshirt decided against the purchase and donated instead.
What I realized by that is – People care when they know. So as designers, how to build connections between human-beings and nature, how to persuade/nudge people in an acceptable way through artwork is our primary responsibility.
I believe we have enough power to do that, so how to use that power properly is something I would be explored in the future learning.