In the first week's lecture, we have acknowledged our place as humans within the environment and the different entanglements that come with the natural world. The design has played an important role in the environmental destruction we face in the present day. However, it can also be considered vital in creating a better, more sustainable, more liveable world.
Moving forward to this week's lecture, the point of focus is the production within, and the consumption of society. Understanding this is crucial for moving toward positive change and a more sustainable future for our environment. Climate change, biodiversity loss, ocean acidification, and pollution are the main issues that our planet is facing, and acknowledging these problems can lead to solutions in the future.  Joanna Boehlert argues: "We are embedded within non-human nature and dependence on ecological systems for life, but our belief systems do not reflect this basic relationship. Consequently, the world that we have designed is deeply unstainable" (2018: 1). I agree with her because although we need nature to live our lives, we are living every day without any concern for nature, constantly contributing to the unsustainable world we live in.
Additionally, Tony Fry explains that the way we demand many new things every day is generating a 'defuturing' nature. The limitless growth and endless mass consumption that actively negates the future (2010). However, Boehlert argues that the solution for a sustainable approach could be 'ecological literacy'. This would lead to an understanding of the natural system which makes life possible. It supports the development of new capacities for creating sustainable ways of living.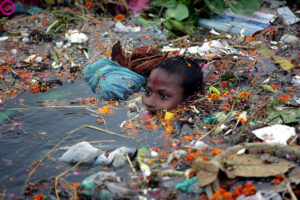 (Boy swimming in the polluted water in India, photo by Harish Tyagi)
In conclusion, designers should prioritize nature throughout the design process. I believe that to restore life on earth, we collectively need to address the ideas explored in this lecture from a variety of thinkers.