In this week's lecture, we started to get deep into environmental issues we came across previously in the discourse.   Knowing the story of any materials, things, object, designs which can all be called 'stuff' can be influential. Often, society does not have a good grasp of what they are buying or an awareness of where the 'stuff' originates or goes once it has outlived its usefulness.  The book 'stories of secret stuff' by Julie Hill, provides us a wider understanding of the lifecycle and analysis of materials. Hill's argues 'We also know that all these materials will at some point end up as waste – our waste'. (2011:81) In general, society has the tendency to buy products frequently then dispose of them equally frequently, creating a major waste issue. Perhaps, the issue here is the lack of knowledge of the details of materials that we are surrounded by, and getting more informed about them could lead to a more waste-free environment.
Another point discussed in the lecture was labour and its place in this unsustainable world we are living in. Capitalism does not tend to favor the environment because it focuses heavily on financial motivation. Throughout  Karl Marx's work, the German philosopher observed and analyzed the world around him, focusing on the life of others. He identified the numerous problems that existed in his time, including the beginning of mass production which leads to worker alienation and labor-power. His analyses of capitalism are very important as they take into consideration how things were made using mechanisms that were new at the time. In the large majority of the world, the capitalist model still governs the contemporary economy. However, I believe that reading and learning about these examples from the past can inform us about the system that we are living in and guide us towards changing it.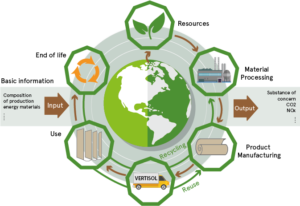 The book 'Cradle to cradle' by William McDonough and Michael Braungart introduces a way of thinking to society which can improve our environment. McDonough and Braungart have provided us with a scheme, characterized by principles that evolved from nature. They explain that nature has no waste because everything is a resource for other things. Thus, we could use these resources to create safe materials, water, and energy, moving towards a concept of no waste. If we approach this method in design practice, we can really help the environment and our world.