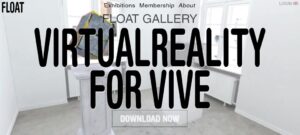 https://float.gallery/about/#Aboutfloat
We show the work of artists working in the digital realm and support aesthetic and cultural practice in virtual environments.
By nature, we define ourselves as a global endeavour, resolving boarders and blending realities in the search of new forms of being, discourse and organization.
Float Gallery was founded and is run by artist Manuel Rossner.
To grasp today's society by theoretical means as well, we work with Internet-TBD on defining the conditions of our contemporary connected lifestyle.
As we reap the fruit of technological progress we also witness its disruptive effects on society. A promising idea to shape a liveable future for everybody might be a universal basic income