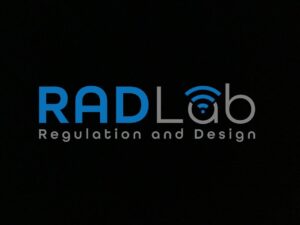 New data driven technologies can bring exciting possibilities to our everyday lives. They can also create complex socio-technical and legal risks. The Regulation and Design (RAD) Lab explores how to create better human-technology interactions by building an interdisciplinary research agenda at the interface of technology, design, and regulation.
Design can help understand, challenge, and improve our relationships with data and technology. Law explores how rules, rights, and responsibilities can protect human values and mitigate impacts of new harms. Through our work, we bring these disciplines together to tackle practical research problems using creative methodologies and novel use cases against the backdrop of ever changing regulatory landscapes.
The research group is founded and led by Dr Lachlan Urquhart and brings together a community of PhD students, postdoctoral researchers, and faculty interested in technology law, human-computer interaction, social science, humanities, and design.
Current Lab Interests and Projects include:
The Right to Repair for Consumer Smart Technologies.
Surveillance in Smart Cities.
Implementing privacy and security by design including developing privacy enhancing technologies.
Governance and Design of Internet of Things and AI systems.
Ethical and Legal Aspects of Biometrics and Affective Computing.
Design tools to support reflection on law and ethics.
Cybersecurity and Smart Home Devices.
Details on current funded projects associated with the Lab are listed here. The RAD Lab is hosted in the Institute of Design Informatics and Edinburgh Futures Institute, at the University of Edinburgh