By Janine Ewen
The uncertainties surrounding Brexit, the COVID-19 pandemic, and the recent oil price collapse have merged to create a truly perfect storm for the North East of Scotland. Once again, history repeats itself in a region where a heavy reliance on the oil and gas sector means that there are profound consequences which follow when crisis hits: places such as Aberdeen have not fully recovered from the last crash six years ago. Now, with the economic turmoil of lockdown, individuals, families and local businesses are facing an even greater struggle for survival. The unmet basic needs in Aberdeen are such that more than seventy local organisations are currently working to address the scale of food poverty here. These harrowing, painful realities are in stark contrast with Aberdeen's reputation of "the oil rich capital of Europe."
The inequalities, deprivations and stress experienced by residents on a daily basis only exacerbate other struggles that the city faces, like its struggle with drug use and the drug trade. Drug issues in Aberdeen are deeply rooted in the area's broader economic and social struggles. Crises such as COVID-19 do not make these issues disappear: if anything, they amplify them. Government responses to the issue need to take account of its complex drivers, if they are to be effective. The police will undoubtedly need to play a role in this response, but we must be careful not to criminally punish those who need our help and support. Issues of intimidation and addiction play a key role in sustaining the drug trade in Aberdeen, factors that are made worse, not better, by punitive state responses. As we tackle the COVID-19 crisis it is more important than ever that we find sustainable community-based approaches for tackling the root problems of our drug issues.
Two weeks ago, I walked into not one, but two police swoops when returning from the corner shop. I had some idea of what was happening when the plain clothed police officers sped around me and leapt out of their cars to apprehend their targets; some who appeared to be causing on-street disturbances and another who was about to enter a property – the man quickly admitted he was in possession of drugs when stopped by the officers. But it was the North East Police social media update the next day that provided the confirmation (see tweet below). I did not think for a second that police activity on drug crackdowns was going to evaporate because of the coronavirus pandemic, and much of what is happening right now in Aberdeen City is a result of a continuing effort to tackle drug supply and organised crime, started from last year. Major police operations of this nature are nothing out of the ordinary here; it is still very much, as always, an ongoing endeavour.

I empathise with, and understand, the voices of people living here who feel conflicted about how this will end in relation to the background of our socio-economic challenges. There is a historical background of failed attempts to discourage the lucrative heroin and crack market that has been a lure to out-of-town dealers for decades. We are a major target area, as compared to the rest of Scotland, so it came as no shock when it was argued (again) this year, by the lead of an Aberdeen based harm reduction service, that we need to 'come together' in our situation – "Crack cocaine has always had more of a bite in the north-east than it does in Glasgow or Edinburgh, and its use is rising. Dundee and Glasgow have started to come together to address the drugs – Aberdeen needs to come together and do the same". This we must do.
After the launch of 'Operation Corner' in 2018, an initial pilot which sought to disrupt 'County Lines' and local dealers who seized vulnerable victims' homes to exploit as a base (known as cuckooing), a number of dealers were cleared out of Aberdeenshire, but residents from rural/semi-rural locations, such as Fraserburgh (or the 'Broch' as this area is known locally which is one of Scotland's main fishing ports), believe some have remained despite the intensified push to make them leave; is it just paranoia kicking in? I don't have any reason to cast doubt over their concerns and it is very important to be on the alert regarding what could become in a future post-police operation – leading to disruption, a significant consideration given what these communities have already been through. Residents have lived amongst this kind of activity and in fear, knowing, for instance, that a neighbour's home, four houses down, had been taken over, and, more generally, that the young generation accepted these things as a painful reality of living in an area where battling addiction and drug dealing continues. The police are still trying to determine the scale of our illegal drug trade and accurately assess what in terms of who is involved and what is happening on the ground; I fully expect this to be an ongoing challenge.

Some unpleasant reading could be found in the local press last year, describing the number of cases that the court didn't recognise as victims of exploitation from organised crime, but who were women, men and youths who admitted involvement in the storage and/or supply of mainly Class A drugs out of fear for the safety of their families, or a need to work off debts quickly under threat of violence, or personal hardship due to living on the streets, or insecurities about themselves and being preyed upon for that – to name a merely a few of the reasons given. A young couple were given unpaid work and will hopefully be able to break away with the support of social work/youth management projects (my fingers are crossed for them). But others received custodial sentences averaging two-three years. The judicial system clearly does not believe that these people are victims with regard to the drugs they carry and store. Unfortunately, jail time it is then rather than safeguarding. If it is the criminal justice systems' belief that by putting these victims in prison this will significantly disrupt the illegal activity, then they are wrong. Perhaps these are the cases we need to review and reflect on in the short term.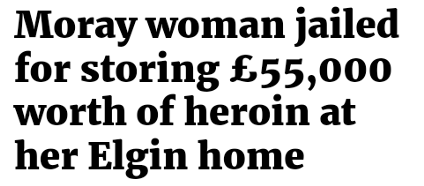 I never write blogs just for the sake of disagreeing with the consensus, but I do hope that I help people think about these matters. The North East is quite different as compared to the rest of Scotland; there is no denying it. We know it, feel it, and accept it, as I am sure our more Northern neighbours do too who are facing similar challenges ("just because we are picturesque doesn't mean we are perfect" as they say). But these differences do not justify any reason to be short-changed from engagement in critical conversations around our drugs crisis and drugs policy. Also, we must examine our environmental risks which create such a large pool of vulnerable peoples to be exploited.
Leading up to, and during this pandemic, there have still been a number of violent incidents related to drug dealing: teenagers are being recruited to supply heroin; serious tensions between youths from affluent and from deprived areas, who have been using and selling drugs in and out of school, are worsening, and even more local prejudice exists against those who speak with a scouse accent. We are living in stressful times, exacerbated by the COVID-19 pandemic, and there is much uncertainty about what the future holds. In addition, you can be sure that these things have been brewing ever since the last recovery from economic decline brought about by the 2014 oil price crash. Indeed, it makes me feel uncomfortable how accustomed our visitors have become to our peaks and troughs.
Janine Ewen, Gender and Law Enforcement Special Interest Group, part of the Global Law Enforcement & Public Health Association
(Feature image: Aberdeen Harbour taken by Janine Ewen)