Love to Read: Primary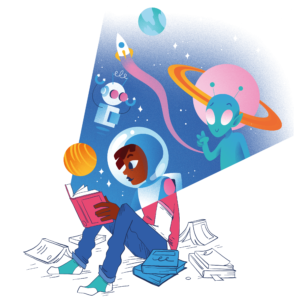 2021 – 2023
For children to reach their full potential as readers, they must be motivated to read and choose to read independently. Book reading provides important opportunities for children to develop their language and literacy skills, and knowledge and understanding of the world. Reading books also allows time for children to relax, laugh, pursue their interests, enter imaginary worlds, develop their empathy skills, and spend time with fictional friends. The experiences children can have when they read books can be rich and diverse, in so many ways, but only if children are choosing to read and engaged with the books they are reading.
The Nuffield Love to Read project aims to co-design a programme to motivate and engage child readers, combining relevant theory and research, with children's input and ideas, and teachers' professional and pedagogical knowledge, experience and expertise.
This project is funded by the Nuffield Foundation.  To learn more, you can visit the project website: https://blogs.ed.ac.uk/lovetoread/ or contact Principal Investigator Sarah McGeown: s.mcgeown@ed.ac.uk
To learn more about children's perspectives and experiences of current reading for pleasure practices, visit our BERA Special Issue blog, published May 2023: https://www.bera.ac.uk/blog/childrens-perspectives-and-experiences-of-reading-for-pleasure-practices-in-the-uk
Project Researchers:
Principal Investigator: Dr Sarah McGeown, University of Edinburgh
Postdoctoral researcher: Dr Emily Oxley, University of Edinburgh
Co-Investigator: Professor Jessie Ricketts, Royal Holloway
Co-Investigator: Dr Laura Shapiro, Aston University
Project Partners:
Katherine Wilkinson, Head of Research and Evaluation, Scottish Book Trust
Christina Clark, Director of Research, National Literacy Trust
Megan Dixon, Former Head Teacher
Helen Fairlie, Senior Education Officer (Literacy), Education Scotland
Katrina Lucas, Teacher
Teacher Co-design Team:
Katie Juckes, Carol Ann Neil, Chereen Rain, Claire Sleath, Emily Weston and Chris Youles
Expert Advisory Group:
Includes Professor Teresa Cremin (Open University), James Clements, and Dr Melanie Ramdarshan Bold (University of Glasgow).