Narrative Fiction: Understanding Ourselves and Others
Narrative Fiction: Understanding Ourselves and Others
2021- 2022/4
Narrative fiction provides opportunities for readers to learn more about themselves, and others, and can support young people's identity development, empathy and perspective taking; however very little research has sought young people's experiences of this.
This project aims to understand young people's experiences with narrative fiction and the extent to which reading provides a mirror (understanding oneself) and window (understanding others).  Following from this, we plan to co-create (with young people and literacy organisations) a guide to enhance young people's reflective literacy practices, to encourage and support deep and meaningful engagement with fiction.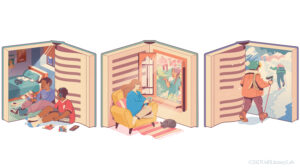 You can learn more about this project through our BERA Special Issue blogpost: https://www.bera.ac.uk/blog/reading-and-narrative-fiction-understanding-ourselves-and-others
You can access the preregistration for this project here: https://osf.io/h4xu2
To learn more about this project, please contact Elena Santi: E.Santi@sms.ed.ac.uk
Project Team:
PhD Researcher: Elena Santi, University of Edinburgh
First Supervisor: Dr Sarah McGeown, University of Edinburgh
Second Supervisor: Dr Katie Cebula, University of Edinburgh
With support from Scottish Book Trust, BookTrust and National Literacy Trust
With thanks to Moray Endowment Fund.