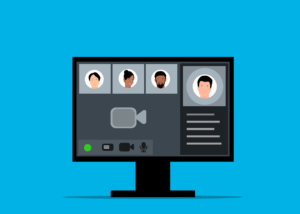 I was doing my usual scroll through Twitter one night last week and spotted this tweet:
Just had the first in-person lecture with a 2nd semester cohort. 95% have never before been in a lecture hall. At the end of the lecture they waved goodbye – like in Zoom  (@BueckerSusanne/Susanne Buecker)
It got me thinking on how this pandemic has changed our digital etiquette and spilling out into non-digital life too.   I just love the idea of everyone waving to each other at the end of a lecture or a face-to-face meeting. I remember at the start of the pandemic laughing about the fact we were suddenly all waving goodbye to each other in meetings.  This has got to be one of the few 'silver linings' of the pandemic and something that shouldn't go away!
However, something else that's new since the pandemic but that really bothers me and regularly causes me to do some soul-searching is our wholesale move to Teams.   And bear with me, it's not for the reason you think….  Despite the fact that I'm obviously concerned about all the data Microsoft are busily harvesting about me (and in particular which are my favourite gifs) what I really struggle with now is the debate….
To email or to Teams message…..?
When *should* we use email? When *should* we use Teams?  These questions make my brain hurt.  Mostly I just pick one and go with it and try not to fret too much but occasionally I have moments of despair when I think I've picked incorrectly.
I mean, sometimes it's obvious:
– I have an urgent message or question for one of my colleagues (Is there a problem with service X? I've been passed an urgent call, and X needs to be done by Y time).
That's a no-brainer, use Teams of course.  You can see if they are online or not. The team use Teams regularly, if it's urgent, they'll see it and can respond really easily.
BUT
– I have an urgent message for someone I don't know well, in a School.
Use email then. Again, another no brainer.  I have no idea how often/whether they use Teams. Teams seems to be less formal, I don't want to appear rude.
But then there are all of the other less obvious examples.
If I use Teams does the person I've messaged think they need to answer me straight away?  In reality, it's seldom I need an urgent answer.  Unless it's one of the (is-there-a-problem-with-service-X) type questions, it likely can wait.  By messaging someone in Teams though rather than email does it mean the recipient thinks I want or need an answer now? It's likely I just thought a conversation would be easier in Teams  but is that recipient thinking I'm judging them based on how long it took them to answer (clue: I'm not!).
If I instead use email, does it seem more formal now, in the 'new time'? Do people think that email is so-2019 now? I get far less email now than I did before the pandemic.
These are questions I just don't have answers for.  And I suspect it depends very much on the perspective of the recipient.  But life has changed now, Teams ain't going away (nor do I want it to, I think it's a good addition to our toolkits) so do we really need to think about these sorts of questions in more detail?  Should we be developing our own team Teams etiquette?
One thing that email has that Teams doesn't is the delayed send. I am genuinely hoping they release this. Sometimes I have random ideas at random times.  I want to send a message when it pops into my head but I don't want the person I'm sending it to be  disturbed. Sometimes in these occasions I still use email.  But I do also sometimes send messages on autopilot (i.e you don't consider the time when you hit send) so for that, to my team (not my Team!) …. I apologise!  This is DEFINITELY a time when I don't expect a response straight away..
---
Free for commercial use, no attribution required
Share