Despite the fact that I've been using our learning and teaching services for years, I occasionally do discover something new about them that surprises me. I've had a couple of these moments recently, and I thought I'd share them because, well, it may be useful to someone who reads this.  I've also written a short blog post about magnifying screen shares in Collaborate.
Learn has a Math Type editor which allows you to write mathematical formulae and other scientific notation. Those of you doing science-y subjects will be very familiar with it – it's an editor which often crops up in learning and teaching tools for maths notation.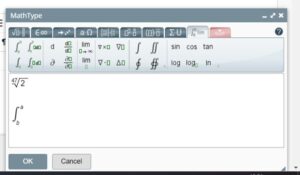 What I didn't realise about it though is that you can actually add LaTeX directly to the editor, and for those who are proficient LaTeX users, this will be faster than using the Math Type editor to construct the notation you wish to use. I must stress, you can't just copy whole LaTeX documents over, that won't work – this is explicitly for rendering formulae.
So, how do you add LaTex formulae? Well, you don't even need to open the Math Text editor. In Learn's text editor, you paste or type in your LaTeX but surround it with $$ symbols, like this:

By the way, it doesn't seem to understand that a \\ should be a line break, so that might take a bit of working around.
The examples I've shown in the editor above, render like this, once the page is saved: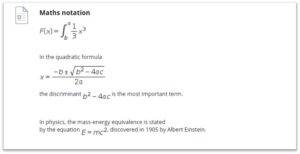 I'd be interested to know if people have used this and found it useful. It's about 20 years since I last used LaTeX in anger, so to say that I'm a bit rusty is a bit of an understatement…..
Share