Programme
Outline – Programme at a Glance
The conference programme is structured around 1h 15min long sessions: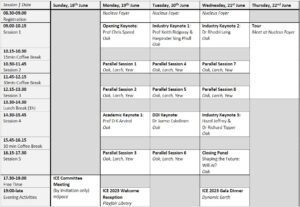 Parallel Sessions
Parallel Sessions follow the structure of 5 x 10 min paper presentations + 25 min for discussion.
There are three Parallel Sessions in each slot, divided between the ICE constituent themes: Engineering, Technology; and Innovation and Entrepreneurship.
Contributing paper authors can find more details about the paper sessions via ConfTool:
Keynotes
9 am Monday
–
Prof Chris Speed
Ubiquity: With great power, comes great responsibility. 
'Ubiquity', the ability to be everywhere at the same time, a 'super power' historically attributed to the supernatural is now a common feature for the average smart phone. This talk reflects upon life in a culture where everyone and everything is connected, all of the time. Hastened through our consumption of networked digital devices, Chris explores the consequences of ubiquity and how the condition challenges how we value things. Made possible through the constant exchange of data (social, environmental and economic), Chris will explore this complex condition and the implications that is has upon value through a series of recent design research projects.  He will present prototypes including a coffee machine with its own wallet and needs your helping buying the most ethical coffee beans, to a hairdryer that prioritises the right time for you to blow dry your hair according to the needs of the environment, and an app that places you into smart contracts with earthquakes, cyclones and Australian ships carrying coal. Finally Chris will present how these new ideas become manifest in the design of new teaching and learning of the Edinburgh Futures Institute, at the University of Edinburgh. 
Prof. Chris Speed FRSE, is Director of Edinburgh Futures Institute, a world leading centre for interdisciplinary teaching, research and innovation, and the Chair of Design Informatics at the University of Edinburgh, where he collaborates with a wide variety of partners to explore how design provides methods to adapt, and create products and services within a networked society.  Chris led the development and leadership of the Institute for Design Informatics that is home to a combination of researchers working across the fields of design, social science, and data science, as well as the PhD, MA/MFA and MSc and Advanced MSc programmes. Chris is currently Director of the Creative Informatics R&D Partnership, one of the nine AHRC funded Creative Industries Clusters in the UK. Chris maintains research projects with partners across the UK and Europe including being a Co-I to the Next Stage Digital Economy Centre DECaDE led by Surrey with the Digital Catapult, and a Co-I to the DCODE European network and PhD program for training the next generation of researchers and designers to guide society's digital transformation towards inclusive, sustainable futures. Chris was made a Fellow of the Royal Society of Edinburgh in 2020. 
—— 
2.30 pm Monday
–
Prof D K Arvind
Sensor Data-driven Personalised Healthcare
Data is valuable if it can be processed to yield actionable information in a timely manner. Some of those sources of data are the networks of sensors, which bridge our physical world and the virtual world of digital information. A recent trend has been the miniaturisation of electronic devices resulting in wearable sensors, coupled with mobile phones, as unobtrusive sources of personal data. This talk will outline the use of wearable sensors, in tandem with machine learning and causal discovery methods, to provide timely information for the care of patients with respiratory diseases, and insights into the impact of environmental pollution on their condition.  The talk will be illustrated with examples drawn from clinical trials using wearable sensors from countries in four continents. 
This research was funded by UK Medical Research Council (MRC), Engineering and Physical Sciences Research Council (EPSRC) and Natural Environment Research Council (NERC).
K. Arvind is a Professor in the School of Informatics, University of Edinburgh, where he holds a Personal Chair in Distributed Wireless Computation (2010 – present), and is the CITRIS Visiting Professor (2007-15; 2018-26) at the University of California at Berkeley, USA.  His research interests centre around sensor data analytics using machine learning and causal discovery, targeted at environmental and healthcare applications.
 —- 
9 am Tuesday
–
Prof Keith Ridgway
& Harpinder Sing Phull
Boeing and Industry 4.0 : The data-driven future
After reviewing Boeing's work in the UK the presentation will focus on personal thoughts on Industry 4.0, Made Smarter and the potential to use low-cost solutions in SMEs. The presentation will pose the question. What benefit do I get for the additional cost?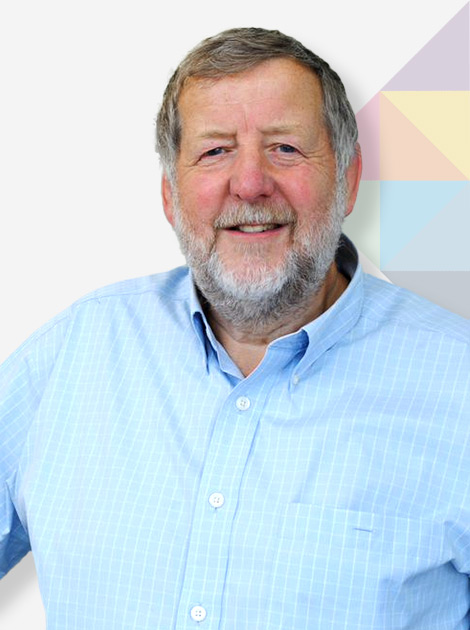 Presented by Professor Keith Ridgway and Dr. Harpinder Singh Phull, of Boeing.
Keith Ridgway is Chair of Industry Wales and was the Founder and Exec Chair of the National Manufacturing Institute Scotland and Advanced Forming Research Centre at the University of Strathclyde. He is now the Senior Executive Manufacturing at the University of Strathclyde. Keith was the co-founder of AMRC at the University of Sheffield and was the Executive Dean from 2000-2019. In 2012 he established the Nuclear AMRC and AMRC Training Centre and led the expansion of the AMRC with new Centres in North Wales and Preston. When Keith left in 2019, the AMRC employed almost 700 people and had a turnover of £80 million per annum. Keith was awarded an OBE for services to UK manufacturing industry in June 2005 and a CBE for services to UK manufacturing industry in January 2012. He is a Fellow of the Royal Academy of Engineering, the Institution of Mechanical Engineers, the City of GuildsLondon Institute, and the Royal Institute of Naval Architects. In 2012 he was awarded an Honorary Fellowship of the Royal Aeronautical Society. Keith is an independent Governor of Sheffield Hallam University and a Member of the Prime Ministers Council for Science and Technology. 
Dr Harpinder Sing Phull is Boeing Research and Technology UK Manager working closely with UK & European suppliers, Universities, RTC's and Government Orgnisations. Harpinder has extensive experience in programme management, team leadership, manufacturing, R&D, and business development. Proven success in establishing and implementing strategic roadmaps/frameworks to increase productivity, decrease costs and improve quality. Skilled providing technical insights, troubleshooting technology issues, executing/maintaining project control systems, and developing/recommending innovative technical solutions for business outcomes enhancement. Expertise building cross-functional teams and conducting training programmes to meet and exceed set performance goals. 
—— 
2.30 pm Tuesday
  –
Jarmo Eskelinen
 Building Innovation Ecosystems – Control, conquer or collaborate? 
 In the realm of innovation ecosystems, diverse strategies have emerged in three global powerhouses: The U.S.'s conquering approach, China's emphasis on control, and Europe's penchant for collaboration. This talk scrutinizes these distinct paths to innovation, underscoring the idea that collaboration might be the most sustainable and universally beneficial route as we advance into the future. Instead of nurturing single market giants or enforcing stringent state control, Europe encourages the triple-helix synergy between startups, established firms, universities, and government bodies. This philosophy is exemplified by the European Innovation Council, which fosters cross-border cooperation and has successfully incubated 12 unicorns, such as Relex. Crucially, it also aims to mobilise resources to find solutions for the most pressing challenges of our societies, such as the climate change. In a world increasingly defined by interconnection and mutual dependency, a shift towards a more collaborative innovation ecosystems could not only foster novel solutions to pressing challenges but also engender a more balanced and inclusive global tech landscape. 
Jarmo Eskelinen is the Executive Director of Data-Driven Innovation (DDI) Programme at the University of Edinburgh, part of the Edinburgh and South-East Scottland (ESES) City-Region Deal. Jarmo is an urban innovation and open data expert, leading the 15-year and £660m DDI Programme, spanning across ten industry sectors from smart infrastructure to creative industries, healthcare, financial services and robotics. He is also a board member of Open Knowledge International, the leading international open data NGO. He loves cycling in cities.  Jarmo has been involved in urban innovation, govtech and smart city initiatives for two decades. He has been the CITO of the Future Cities Catapult (London), CEO of Forum Virium Helsinki, member of the Smart London Board, founding vice-chair of Open & Agile Smart Cities network (OASC), and President of the European Network of Living Labs (ENoLL).  Jarmo has advised the European Commission and the World Bank in smart cities and citizen-driven innovation, and supported strategic urban innovation initiatives in Helsinki, London, Belfast, Krakow, and Dubai, to name a few. 
 —- 
9 am Wednesday
  –
Dr Rhodri Leng 
 Shaping the future: Nurturing a reliable research ecosystem for trustworthy data-driven innovation.  
While data-driven innovation in academia holds transformative potential, the prevalence of questionable research practices (QRPs) challenges the reliability of conclusions derived from machine learning techniques that take academic papers and their published datasets as inputs. In this talk, I reflect on how problems of publication bias, citation bias, selective reporting, and lack of reproducibility are threatening progress in our sciences. To address these issues, we need to nurture a reliable research ecosystem that rewards robust research over hype, moves away from a harmful and distorting metrics culture, and ensures research funding and career structures are focussed on improving research integrity. To this end, I argue that living systematic reviews that aim to be objective and which carefully document the findings of work conducted on a specific topic, define areas of disagreement and uncertainty, and identify the membership of particular research clusters represent a practical first step. 
Dr Rhodri I. Leng is currently Research Analyst at Baillie Gifford, an asset management firm based in Edinburgh. He holds MA(Hons) in Politics (Univ. Glasgow), MA in Political & Legal Theory (Univ. York), and MSc(R) and PhD in Science & Technology Studies (Uni. Edinburgh). Prior to his PhD, Rhodri worked as an advisor in the UK and Scottish Parliaments for several years. Rhodri's PhD research and later ESRC Postdoctoral Fellowship focussed on understanding scientific field development, with a particular focus on dissemination biases in shaping the development of knowledge on specific topics. He has published research in leading biomedical and social science journals, as well as a book on scientific development with MIT Press (The Matter of Facts, 2020). Despite leaving academia in 2021, Rhodri remains active in his field, continuing to publish and review new research as well as teaching citation network analysis at Edinburgh. 
 —— 
2.30 pm Wednesday
–
Hazel Jeffrey 
&
Richard Tipper FRSA
Brainy Satellites Are Coming!
Earth observing satellites have become important tools for monitoring environmental change, helping governments and businesses to respond to challenges such as climate change, pollution events and disasters. Current satellite systems generally collect images on a routine basis and it takes time to download, process and interpret large vo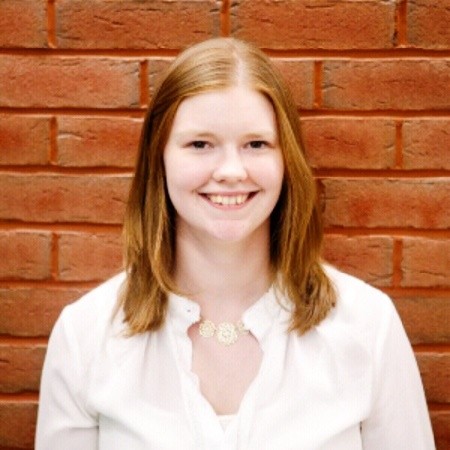 lumes of "wall to wall" data. A group of engineering and service companies in Scotland is designing a new generation of smart, responsive earth observing satellites that will provide rapid information directly to end-users in response to task requests, over secure channels using increasingly powerful on-board computing systems. We will discuss the opportunities and challenges associated with developing and launching this new generation of Brainy Satellites. 
Hazel Jeffrey: Craft Prospect 
Hazel Jeffrey is an experienced systems engineer who has performed as the technical lead for the full systems lifecycle of various CubeSat missions. As Head of Systems at Craft Prospect, her role is to provide systems engineering support to ongoing CubeSat activities and to define the architecture for future Craft Prospect space based missions. With an MEng in Aeronautical Engineering, she has a broad background in space mission design, conceptual design and satellite AIT. She has previously worked at the Glasgow based nanosatellite manufacturer, AAC Clyde Space, as a systems engineer where she was heavily involved in the design, build and delivery of five nanosatellites, all of which have been deployed and operated successfully on orbit.
Dr Richard Tipper MBE: Resilience Constellation 
Richard has over 25 years of experience in consulting and developing businesses providing climate and economic information. He was a lead author on several IPCC assessments and managed one of the UK's largest earth observation programmes, helping seven tropical countries improve their national forest monitoring systems using satellite data. Richard is also Chairman of Ecometrica, a successful software business providing sustainability reporting services to over 300 commercial customers.   
 —- 
4.15 pm Wednesday  – Panel: Shaping the Future: Will.A.I?
Chair: 
Prof Stuart Anderson is professor of Dependable Systems at Edinburgh. He is particularly interested in socio-technical systems, the resilience of such systems and how Social Science and Informatics provide a unique perspective on the conception, design, deployment and operation of computer-based systems. The Social Informatics Cluster in Edinburgh works closely with members of ISSTI and with the Edinburgh e-Health Interdisciplinary group. Currently this cluster is working on Information Infrastructures and their role in analysing long-lived, large-scale systems. He is also interested in Social Computation and Collective Adaptive Systems and recently have been working jointly with NHS24 and other Scottish Agencies on the development of a Digital Health Institute designed to stimulate innovation and knowledge exchange.
Panelists: 
Prof Ruth Aylett
Ruth Aylett is a Professor of Computer Science at Heriot-Watt University in Edinburgh. She has worked in AI and Robotics for more than 30 years and has led a series of EU and UK-funded projects in these areas. Her current focus is on social robotics, human-robot interaction, affective architectures and agent expressive behaviour. She recently worked on a project to use a robot to support autistic adults with social interaction skills and currently leads a project to develop an intelligent digital narrative agent to support reminiscence therapy for adults with early-stage dementia. 
Prof Lilian Edwards 
Lilian Edwards is a Scottish UK-based academic and frequent speaker on issues of Internet law, intellectual property and artificial intelligence. She is on the Advisory Board of the Open Rights Group and the Foundation for Internet Privacy Research and is the Professor of Law, Innovation and Society at Newcastle Law School at Newcastle University. Edwards is a leading academic in the field of Internet law. She has taught information technology law, e-commerce law, privacy law and Internet law at undergraduate and postgraduate level since 1996 and been involved with law and artificial intelligence (AI) since 1985. Edwards is Deputy Director of CREATe, the Centre for Creativity, Regulation, Enterprise and Technology, a Research Councils UK research centre about copyright and business models.   
Prof James Fleck
James Fleck is currently Honorary Professor in Technology Development, Innovation and Enterprise at  the University of Edinburgh Business School, and is Editor-in-Chief of the international journal Technology Analysis & Strategic Management. He was formerly Director of the University of Edinburgh Management School, Dean of the Open University Faculty of Business and Law, and has carried out research on early AI, industrial robots, ICT and innovation more generally, holding many grants and providing consultancy to governments (the US OTA; Japanese MITI, and UK DTI) and business.  
Dr Vasileios Galanos 
Vassilis Galanos (it/ve/vem) is a Teaching Fellow in Science, Technology and Innovation Studies at the School of Social and Political Science, University of Edinburgh and associate editor of the journal Technology Analysis and Strategic Management. Vassilis researches and publishes on the interplay of expectations and expertise in the development of AI, robotics, and internet technologies, with further interests in cybernetics, media theory, invented religions, oriental and continental philosophy, community-led initiatives, and art. Vassilis is also a book, vinyl, beer cap, and mouth harp collector – using the latter instrument to invite students back from class break. 
Dr Matjaz Vidmar
Matjaz Vidmar is Lecturer in Engineering Management at the University of Edinburgh and Deputy  Director of the Institute for the Study
of Science, Technology and Innovation. He is researching innovation processes, R&D (eco)systems and futures strategies and design, especially within the space industry, artificial intelligence (AI) and data-driven economy. He leads a number of interdisciplinary projects spanning arts, science and civil society, as well as being involved in several start-up companies and delivering an extensive public engagement programme. He co-leads The New Real programme, a collaboration between the Edinburgh Futures Institute and Alan Turing Institute, experimenting with new AI experiences, practices, infrastructures and business models.