2022-23 Gifford Lecture Series: Professor John Dupré- A Process Perspective on Human Life
2022-23 Gifford Lecture Series: Professor John Dupré- A Process Perspective on Human Life
Our 2022-23 Gifford Lecturer is Professor John Dupré from the University of Exeter.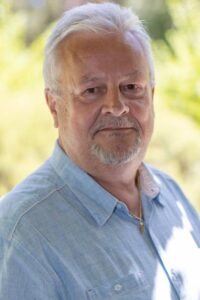 Professor Dupré is the Consulting Director of Egenis, the Centre for the Study of Life Sciences and is a Professor specialising in the Philosophy of Science, with a main focus on the philosophy of biology. He holds a PhD in Philosophy from the University of Cambridge, and after serving as a Junior Research Fellow at St John's College Oxford, he moved to the US to work in the Philosophy department at Stanford. After 14 years he returned in 1996 and has since held posts in London's Birkbeck College, and Exeter University. In Spring, 2006, he held the prestigious Spinoza Visiting Professorship at the University of Amsterdam.
His last book was released in 2021 entitled The Metaphysics of Biology, published by Cambridge University Press.
In this series of lectures, Professor Dupré shall explain why we should understand life not, as is still commonly the case, as composed of things made of smaller things, the latter arranged into mechanisms, but as processes. As such, life is constantly dynamic and active. The lectures will explore the implications of this thesis for various topics with increasingly direct relevance to human life, starting with evolution and symbiosis, and moving to human nature and human kinds, personal identity, and freedom of the will.
The series of six lectures will be convened during the first two weeks of May, with a seminar held in collaboration with the Royal Society of Edinburgh on Wednesday May 10. A panel with Professor Dupré, Dr Bethany Sollereder and Dr Mazviita Chirimuuta will be chaired by Professor Mona Siddiqui. The Lecture dates and titles are below: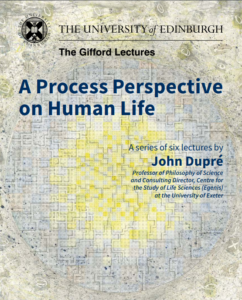 Monday May 1- Why Life is all Process
Tuesday May 2- Evolution
Thursday May 4- Humans and their Fellow Travellers
Monday May 8- Personal Identity
Tuesday May 9- Human Nature and Human Kinds
Wednesday May 10- RSE Seminar held at RSE, George Street. Please book for the RSE Seminar here Eventbrite Booking
Thursday May 11- Free Will.
All lectures will be held from 5.30-pm to 7pm at Gordon Aikman Lecture Theatre, 21 Buccleuch Place, Edinburgh EH8 9LN. 
View the abstract for each lecture on the University of Edinburgh website.
The student and faulty bloggers and respondents will be released soon. We are delighted to welcome Professor Dupré to Edinburgh and look forward to this series.