Home Living, Campus Living and Online Learning
Home Living, Campus Living and Online Learning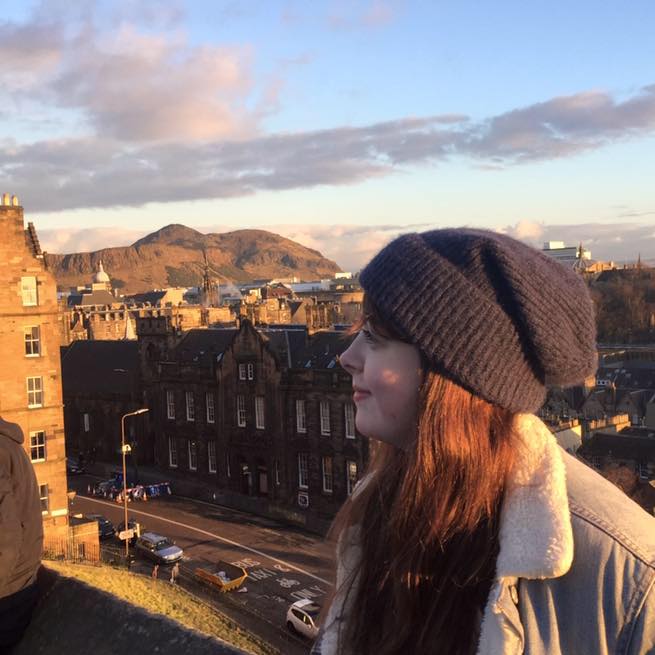 Reading Time:
5
minutes
By Molly, BSc Geology and Physical Geography 
With the likelihood of fully returning to campus looking slim at the moment, the prospect of at home learning and living may seem disheartening, but as someone who has lived at home, as well as lived on campus, and indeed did online learning in town for the past year, there is definitely some perks for each case.
There are many reasons why I chose to study at Edinburgh. The main reason was that I had dreamt of studying Earth Science there since I was 15. However, another reason I made Edinburgh my firm choice was that it was relatively close to my family home in West Lothian. For this reason, I decided to stay at home during my first year of uni.
While everyone is different, I did not feel I was ready to move into the big city just yet. Home was comfortable; my washing was done regularly, I had my dinner cooked for me, I could still see my friends at home, and I did not have to deal with mucky kitchens! I commuted in by train (about half an hour each way), and walked to Central Campus, or took the shuttle bus to King's Buildings. My timetable wasn't very full on, maybe about 10-15 hours of contact time (lectures, tutorials, labs) each week and I had something on every weekday. While the commute was not too long, I decided that I'd be better of staying in Edinburgh for the day and making the most of my time there. On Mondays, with a 4-hour gap between lectures, I would hang out at Potterrow with my friends, or go to some local cafes. On Wednesdays, I would go out to brunch with friends after lectures, which was great for getting to know people.
The experience of moving into halls and becoming best friends with your flatmates is not one I shared. As I was at home, I thought that it would be more difficult to make friends, so I made sure to push myself and put myself out there. I joined Facebook groups with other university students after I firmed Edinburgh, we would chat just about every day about things going on in our lives, and this lead to some fairly strong connections even before we started uni. In the first few weeks of starting, I spoke to other folks on the course, this was easy to do; we all had the same common interest and before long we were going out for bagels on a weekly basis.
After a year of having to get the train home early after nights out, I decided it was time to move to the city. We were lucky enough to get a flat in Marchmont next to the meadows. I could see my friends more regularly, host parties (pre-COVID), and go out to clubs (also pre-COVID). It was also really convenient that King's Buildings and Central Campus were only a short walk away, knocking up to 40 minutes off my previous commute! It was also great being so close to the library, where I went to study for my exams. I really feel that living so close to campus helped improve my grades with respect to the previous year. Living alone also gave me the chance to cook for myself (or indeed order as many takeaways as I liked!) so I was always eating something I enjoyed.
I'd lived in Edinburgh until the lockdown in March 2020, when I decided to quarantine with my family. After a few months, I decided I missed having my own space after living on my own for 3 years at this point. In addition, I worked part time in a restaurant in the city, and after it re-opened, I decided I missed the warm Edinburgh evenings in the summer and the buzz around town. Also the half-hour commute after finishing late was far from ideal. I moved back to the city in October 2020, on the day the 2nd lockdown was announced.
Many of my lectures were online during my 5th year, and to be honest, it didn't matter if I was at home or in Edinburgh, because I opted for online learning during the first semester.
Due to the restrictions, I could not see my friends or my family like I normally could, which has been a challenge for everyone. However, being in the city gave me access to some beautiful walks, such as around Arthur's seat (which I went up for the first time this year!!) and down in Leith, which I would not have had in my home-town. Not to mention the access to so many more takeaways, which was essential during lockdown.
Overall, living at home and living on campus at University can be quite different experiences. Personally, I find living on my own in Edinburgh much easier than doing university at home, having my own space and being closer to university spaces made a huge difference to my grades, and being closer to my friends. This is not to say that you won't make friends if you live at home, this is not the case at all, I had my friends through to see my neck of the woods and I drove them around showing them my favourite sites.
If you chose to live at home, my advice would be to push yourself outside your comfort zone: join societies, speak to people and join social media groups of students with similar interest, this will make the transition to university much easier in the long run.
If, like many others, you decide to stay in halls, or if like myself you decide to move out of home, my advice is to make sure you will be living with people you get on with well, and most importantly remember to have a decent balance between work and uni, as it can be far too easy to forget about your responsibilities in favour of a "student experience".
Follow us on Instagram or Twitter for more updates from our Geosciences students!
Share