GeogSoc's One Day Relay – there's still time to donate!
GeogSoc's One Day Relay – there's still time to donate!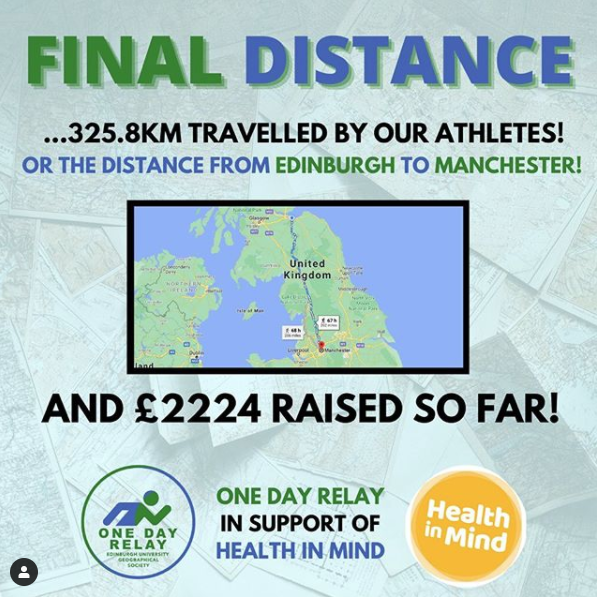 Reading Time:
2
minutes
This year, the University of Edinburgh Geography Society (GeogSoc) took part in the socially distanced One Day Relay in September, where staff and students ran for 24 hours to raise money for Health in Mind.
The One Day Relay is a 24-hour running event that took place from 6pm on Friday 25th September to Saturday 26th, raising money for Scottish mental health and wellbeing charity Health in Mind. The event comprised of both staff, students and alumni from the University of Edinburgh Geography Department and saw our 31 'athletes' run across the city for as far as possible for one hour, then 'pass on the baton' for the next runner to run for the next hour!
In Scotland, around 1 in 3 people are estimated to be affected by mental illness in any one year.  In the unprecedented times in which we are currently living in, looking after your mental health and normalising the conversations around it, are even more pressing. Through the event we raised £2254 for Health in Mind, an incredible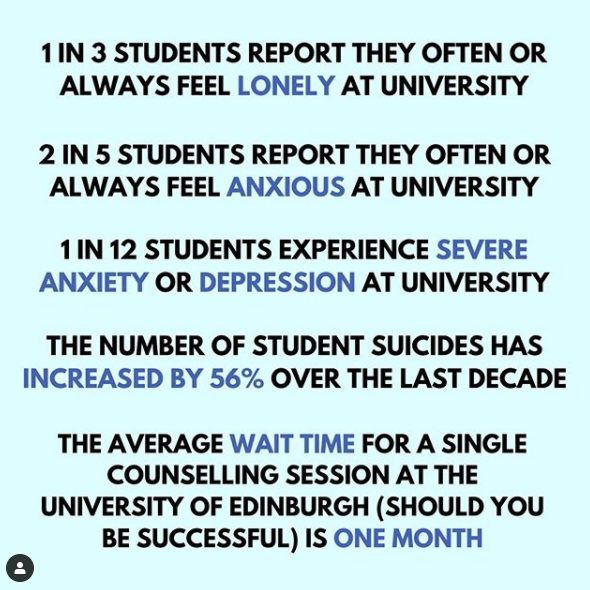 charity working to positively impact people's mental health and well-being,  deliver trauma support and training, counselling and talking therapies, and early intervention community-based support.
Highlights of the event include Dr Dan Swanton winning the title of furthest distance ran, 3 runners running up Blackford Hill and one runner being followed by police for suspiciously running around Edinburgh from 4am-5am!
The JustGiving Page is still live: https://justgiving.com/fundraising/edionedayrelay with all proceeds going to Health in Mind and to follow the events of the day head to @edionedayrelay on Instagram.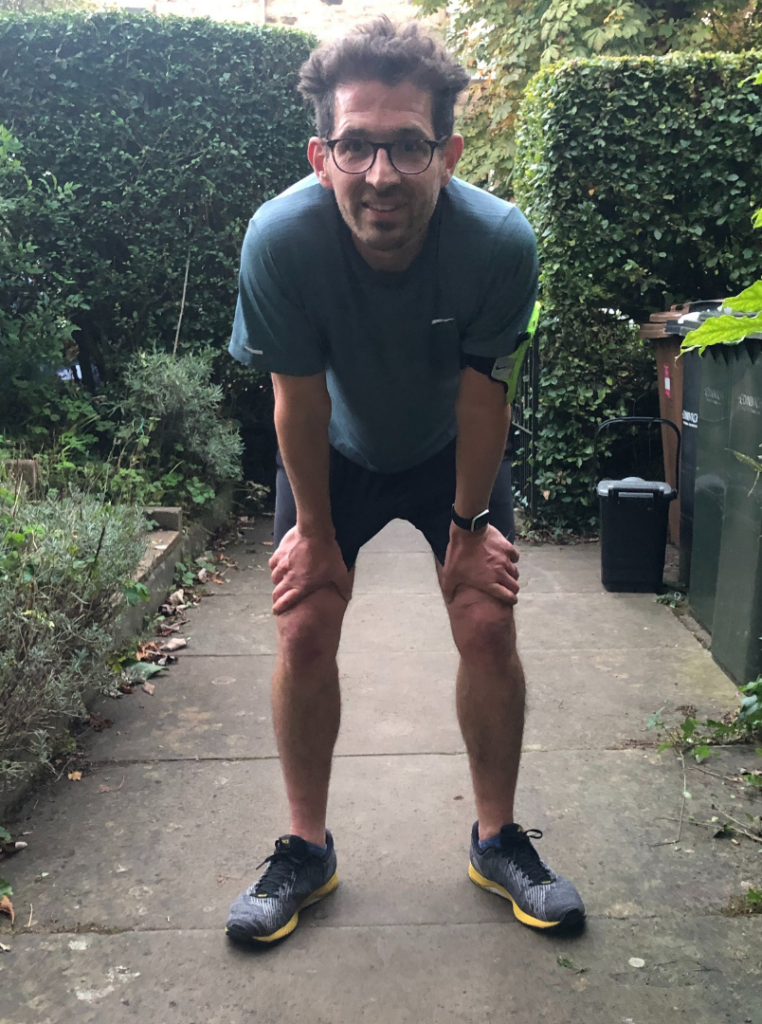 A shout out to all of the runners:
6-7PM: DR DAN SWANTON
7-8PM: ISOBELY ELY
8-9PM: LILY DOWLING & ELSA MOXLEY
9-10PM: MAX EDGINGTON
10-11PM: SHEELA STEELE
11-12AM: LUKE DONALDSON
12-1AM: LUCIEN STADDON FOSTER
1-2AM: SAM TENNY
2-3AM: SAM DOBLE THOMSON
3-4AM: MICHAEL LYNCH
4-5AM: SAM SCHOLES
5-6AM: PROFESSOR SIMON KELLY
6-7AM: OLIVER MURGIAN HEDGER
7-8AM: LOUISE ELLIOTT & ANNA POLGLASE
8-9AM: SASHA LIWICKI & ELLA OAKLEY SLATER
9-10AM: SOPHIE PENMAN & EMILY ROBINSON
10-11AM: CARRY ARNOLD
11-12PM: PROFESSOR NIAMH SHORTT
12-1PM: SOPHIA JAVID & LIV CONROY-SMITH
1-2PM: LUCY HASLAM & LISA KEARNEY
2-3PM: PROFESSOR HAYDEN LORIMER
3-4PM: MARY COX & G ELLIOTT
4-5PM: ELENA HENNING
5-6PM: EMILY STAMMERS
Well done to all!
Follow us on Instagram or Twitter for more updates from our Geosciences students!
Share