Life Online: Society Socials
Life Online: Society Socials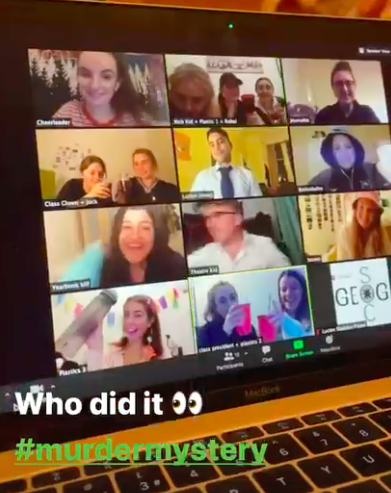 Reading Time:
3
minutes
By Izzy, MA (Hons) Geography and Social Anthropology 
At the beginning of semester 1 I wrote a blog reflecting on the first week of virtual learning. I am a third year Geography and Anthropology student and so my degree was significantly affected by the shift to online university. Here we are (almost) a whole academic year down and WE MADE IT!
First of all, it has to be said, kudos to everyone toughing it out at the moment with University. Sleeping, working and relaxing in the one space is difficult enough as is – add the extra stress of deadlines, wifi…. We have all done a fantastic job adapting to the COVID-19 climate, and we should all be proud for just turning up!
Something that has definitely eased life online for me is having my society community to boost morale. Edinburgh University's Geographical Society made sure there was fun to be had all year long, and here is a low-down of my top 3 online socials and some tips on how to get involved.
COCKTAIL MASTERCLASS
I ran a virtual cocktail masterclass for GeogSoc and what a messy night this one turned out to be! We made raspberry daiquiris and pina coladas, using a thermos as a cocktail shaker. My flat had a conveyor belt system going on of people smashing ice, crushing berries and drinking simultaneously. It was a roaring success and everyone managed to follow along from home. We returned for a burns night themed round 2 in January – though whiskey is not necessarily the drink for me, we made whiskey sours which I did not expect to like!
What is great about this is we had an activity for people to do, and a bit of friendly competition via instagram to see who made the best cocktails made it feel like we were all together.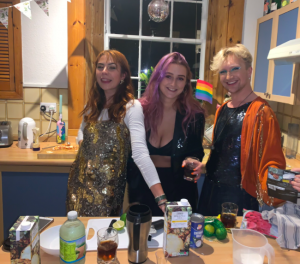 This was a hilarious evening which saw us all get dressed up as high school characters (I was a plastic mean
 girl character, clad head to toe in pink). We had character profiles, alibis and links to other characters. Because this was on zoom you could see everyone's reactions and I did not stop laughing. Some of the commitment to the roles was very impressive. At the end, we all guessed who we thought was the murderer and we all got it wrong – shows how handy KS3 Drama skills can be!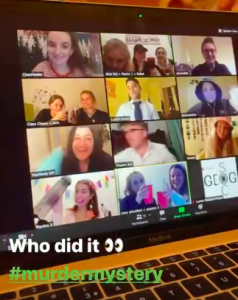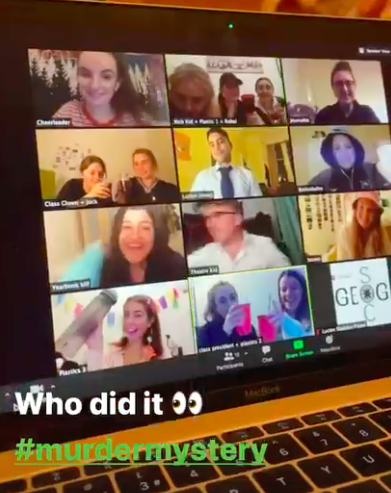 We had a premade document which was easy to share around with people. There are hundreds of these kits online though and they're great for all ages. I will definitely be introducing this to my family!
Normally around this time of year we would have balls galore, a key part of the Edinburgh University experience. Everybody likes getting dressed up, especially me, so why not have a mini ball on zoom? We all looked super glamorous and it was nice to make the moment feel special.
We did some committee awards, which really brought a smile to everyone's faces. I was awarded best in a crisis, for dealing with an elderly lady who accidentally joined our Burns Night cocktail masterclass – an honour I will hold highly forever. Being a part of a society is so heartwarming, and after all our hard work this year it was a lovely way to say goodbye to the 2020/21 committee.
If there is anything I have learnt from this experience, it is that virtual socials are essential in trying to feel sane. There were some new faces and I made lifelong friends, who I still have not met in person! By ensuring we are using our online platform to reach out to those within our community, we are providing a safe space to hang out when we are learning to bridge the gap in a post-covid world. All these efforts have made such a difference this year, GeogSoc even won Bright Network's community outreach award which is proof that we can all do our bit to try and have some fun, despite the pandemic!
Follow us on Instagram or Twitter for more updates from our Geosciences students!
Share