Reflecting On My First Two Years at Edinburgh University
Reflecting On My First Two Years at Edinburgh University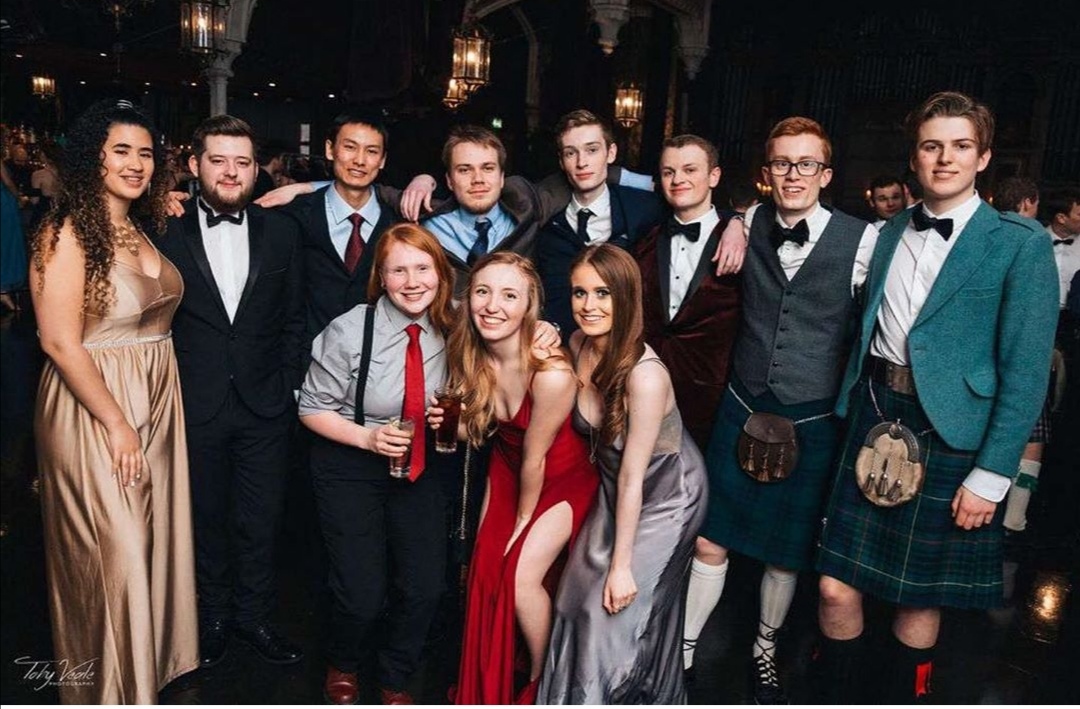 Reading Time:
6
minutes
By Alex, BSc Geology and Physical Geography 
The past two years have gone by in a blink of an eye, it feels like I've been here forever, but it also feels like I've been here just a couple days. From our Q&A sessions I've seen a lot of questions about what it was like moving in, starting classes, making friends and joining societies. So I thought that today's blog would be an excellent opportunity to discuss what my experience was starting uni, and how I feel about it now.
Moving In
Having already moved away from home and went to another university in China for a year, I wasn't overly worried about moving in. I had just been living at my parent's house for a month and I was insanely bored. Most of my high school friends had already moved out to go to uni or they were working full time, so I had nothing better to do than hype myself up to go to Edinburgh. I had downloaded the events app, favourited all the events I wanted to go to and planned myself a busy welcome week.
After loading up the car, my family drove me to Edinburgh and helped me unpack. I had brought a bunch of stuff from high school like books and jotters from classes I thought were relevant. It turned out I didn't look at these once, so if you are considering bringing high school work, I'd recommend just leaving it at home.
I stayed at Salisbury Court, which is a relatively pretty building already, so in terms of decoration, I didn't bother with much other than some pictures of friends and posters I picked up at a poster sale in Teviot.
Making Friends
Once I was moved in, it was time to make some friends. Everyone is in the same situation; I'd say to anyone worried to just forget your fears for the day and throw yourself into everything!
It's super easy to make friends, a guy on the group chat asked if anyone wanted to go to tesco, so I went along and ended up going out with the same people I met that night! The next night my flat and the flat next door arranged to go out together, this was when I met two of my friends who ended up being my flatmates the next year!
Add yourself to group chats and make plans! The first week is the time to explore Edinburgh and what it has to offer. I went to a bunch of events with people I had met on the first couple days but I also went to some alone which allowed me to meet more people. Although most of the people you meet in Welcome Week you don't see again, you do sometimes find some great friends out of it!
In terms of making friends in class, doing a geoscience degree you are in the best position to make friends super quickly! Being thrown into fieldtrips and labs, it's inevitable that everyone becomes pals.
Starting Classes
Being a massive Earth Science nerd, I was super excited to start classes. We had a short induction class in Welcome Week. Luckily, I had met a girl on my course on a night out previously, so we went together. This was pretty short though, so we didn't have much time to socialise.
On the first week of teaching we had our first proper class. It was Earth Dynamics, and for some reason the first class was at the art college which I had a struggle to find. I ended up getting there just in time. I sat down next to three girls who I recognised from the group chat and made pals with them quickly.
Earth Dynamics was super interesting. It goes over all the basics of geology, from volcanoes to resources, and earthquakes to metamorphism. We got to go on a couple day trips too! Our other compulsory course for the first semester was Evolution of the Living Earth, this had four parts, palaeontology, chemistry, biogeochemical cycles and global climate change.
Electives
Elective courses can be taken in first and second year. They are outside courses that you can take (as long as you have space in your timetable and they fit into the timetable). You can choose pretty much anything within reason. Each semester you usually can take one or two elective classes. In first year I chose astrobiology and oceanography, then in second year I done natural hazards and Chinese.
Astrobiology sounds a bit crazy, it's a physics course focussing on the biology outwith the Earth. We learned about exoplanets, the chemistry of life, and extremophiles (things living in extreme environments) and much more.
Oceanography was as it sounds, science of the ocean! It went over marine biology, ocean geology, physics and chemistry. It was really interesting but a bit more challenging than my other electives.
Natural Hazards was one of my favourite (if not my favourite) course! It's super interesting, talking about all the different types of natural hazards, how they occur, how we can detect and monitor them and how to measure them. The practicals for this course are really interesting, you use real data from Earthquakes to find the epicentre of an earthquake and you are given hypothetical volcano eruptions to measure and calculate.
I also chose to do Chinese as I had previously studied it and wanted to continue.
Joining Societies
In first year, I didn't really bother with societies. I signed up to 100 mailing lists at the activities fair then didn't end up going to anything. In second year I decided to change that and learn something new, this ended up with me starting a new society.
Of course, I did join other societies. I'm a member of a political society which I regularly attend. Even though I'm a geology student, its refreshing to have a society to go to which isn't directly related to my degree, it gives me a bit of a breath of fresh air where I can rant about and discuss things I want to change in politics (my geology friends are definitely sick of my random political rants).
Then there's palaeontology society! My pride and joy! I've already talked a lot about palaeosoc in my Starting a Society blog and in the society spotlight (links to be added). So if you are interested, check it out there!
Second Year
Even though it was cut short, second year was fab! Moving into my own flat with friends (and freezing to death in an old tenement), seeing my friends again and enjoying the Edinburgh life!
Second year felt a bit more serious, but it was also more fun in other ways. We all knew each other a lot better (so much so my friends and I decided to buy a tent together for camping!), everyone was more settled in their course and living outside halls gave us a bit more freedom.
Looking Back, I'm so glad everything turned out the way it did. Whatever you are worried about when it comes to starting uni, it'll turn out fine! The only things I'd change is eating more healthy (all those take-outs really add up when it comes to paying rent..) and find a warmer flat for second year.
Now I've just moved into a new flat with my partner. It's a lot smaller but a lot warmer, I'm so excited to start classes in September, although I'm feeling slightly nervous because third year is when your work begins to count towards your final degree but I'm sure it'll be fine!
What are you looking forward to next semester?
~Alex 2nd Year Geology
Follow us on Instagram or Twitter for more updates from our Geosciences students!
Share