Upping our game under lockdown
Upping our game under lockdown
I'm Robin and I work as the Operations Manager for Generation Scotland. Lockdown has been a challenge but we have been making the most of it!
Since lockdown began I've been staying at home as much as possible. I used to work in the office 4 days a week and I spent many weekends enjoying a variety of activities all over Edinburgh. I had a pilates class I would go to regularly and I sometimes did yoga. Our family would often go to the cinema and theatre.  My husband and son are active chess players, and I used to go with them to chess tournaments over weekends in different parts of Scotland at least once a month. I would do some sightseeing and catch up with friends whilst they played chess.  Normally we'd also go to shows in the various Edinburgh Festivals, especially the Film, Fringe and Book festivals. All of that has stopped, and it is much missed.
Almost all of our extended family lives in the USA. It is hard being so far away from them and not knowing when we will be able to see them again. My parents were going to visit at Easter. That trip was cancelled and our usual trip to the USA in the summer has been cancelled too. This means we won't get to see some of our family this year at all. We will miss seeing our families in Wisconsin and North Carolina and the family traditions that we do every summer. Because our parents are all in the high risk category, it is unclear how long it will be until it is safe to visit them or for them to visit us.
I have always been a big reader, so that hasn't changed with lockdown. I try and make time for regular exercise everyday and vary it between lots of different things, from working out to videos on YouTube, to lifting weights and getting on the cross trainer we have at home.
As a family we have always played lots of board, card and other games. We have been doing this more regularly since lockdown began and have started a regular poker match where the winner gets a game or film of their choice and the loser has to do extra housework.
We've also been very lucky in having a garden. My son had a lockdown birthday and his grandmother got him an outdoor ping pong table. We've playing ping pong as much as we can to go outside. Our game has gotten much better and we are getting pretty evenly matched, though I am by far the shortest in the family and there are shots I just can't reach no matter how much I try.
I feel very lucky to have had the opportunity to join the Generation Scotland Team. Previously I had been working for another population study, UK Biobank. I was already working with Archie Campbell on some projects,  so I knew what a wonderful study Generation Scotland is. My old role came to an end somewhat unexpectedly and at the same time Generation Scotland had received funding to restart recruitment, including funding for an Operations Manager. I was very lucky to be able to move into that role and get the opportunity to work on expanding Generation Scotland to new families and generations. That is what makes Generation Scotland so special, it involves whole families across Scotland and multiple generations in health research.
The most challenging part of the job just now is to keep a sense of perspective and to not keep working when I should stop. The whole team is working very hard and we often feel a pressure to meet tight deadlines so our research on the impact of COVID-19 lockdown measures can be done in a timely way. When you are working at home it is easy just to check your email and think I should reply to that now, even if it is after when you should have stopped working. The first 6 to 12 weeks of lockdown I did not stop when I should have, but I am getting better at it and with some holiday time booked in soon I will take a break.
My favourite thing about being Operations Manager for Generation Scotland is being part of the amazing team. Since the pandemic hit the UK we've had to totally shift all of our work, not only where and how we work, but changing from recruiting new volunteers to Generation Scotland to releasing surveys to look at the impact of the pandemic on people's lives. Since lockdown began,  in March, we've launched CovidLife and TeenCovidLIfe surveys already.  We have follow up surveys in the works, as well as planning to release RuralCovidLife survey. We've had several new people join the team and have learned to welcome new team members who we can't meet face to face. Through it all we've really pulled together supporting one another and still having a sense of humour about the challenges everyone faces. We have a wonderful team and being part of it is the best part of my job.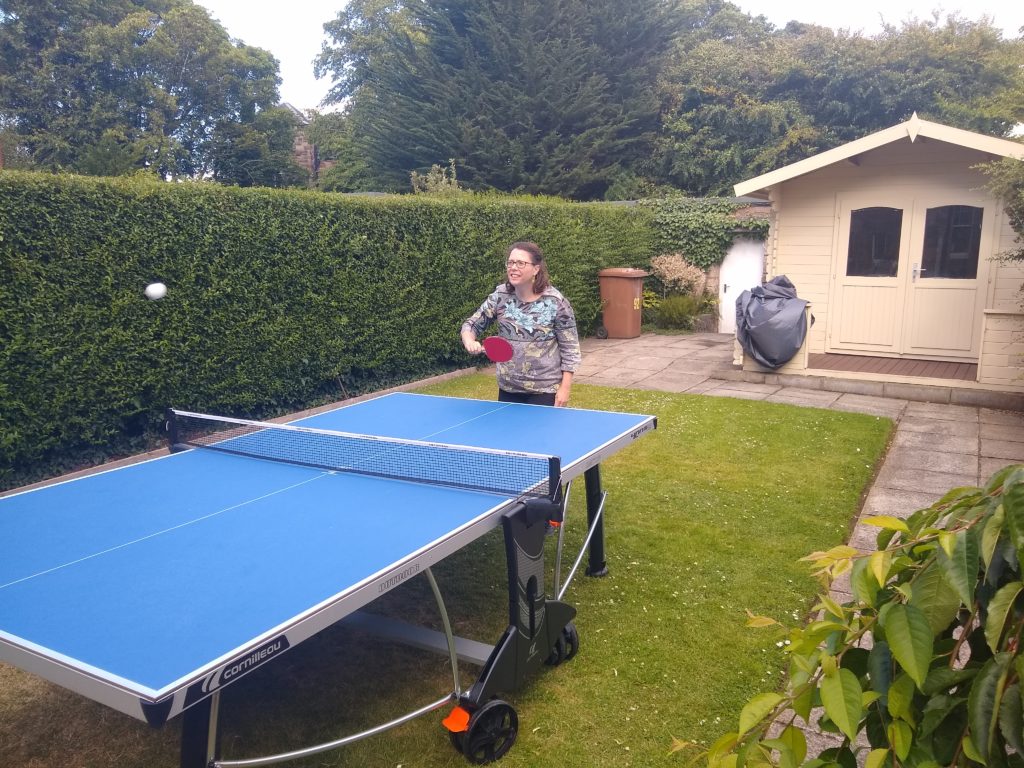 (Robin Flaig)