Sophia Woodman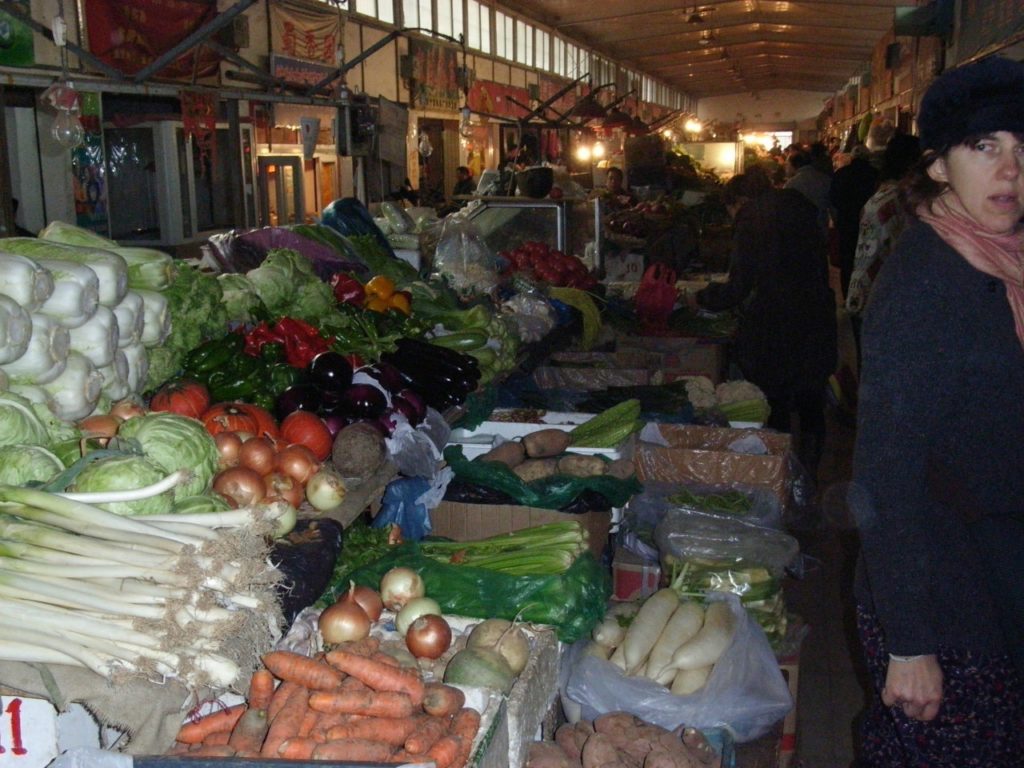 When I first moved to Tianjin in northeast China with my family for 10 months of PhD fieldwork, people I met often offered suggestions about how to navigate the city, including where to shop. Several of them pointed out the location of Carrefour, a global French supermarket chain that had a superstore a bus ride away from where we lived. Their assumption was that this was the most appropriate shopping location for someone like me from what they called the 'advanced' world, and that I would be worried about the safety of places where locals did their shopping.
Just down the road, about five minutes' walk from our flat, was the Tianjin version of a 'wet market'—a commonplace in many Asian countries. In this city, by the time I moved there in 2008, long-standing local street markets had been moved into large covered halls, open at each end, with shop-like stalls along each side and tables stacked with produce down the middle. When you walked in to the main entrance to the market, the first stalls were piled high with colourful displays of all kinds of fruit, and a bit further down were vegetable sellers, who purveyed an impressive range of greens at all times of year. At the far end there were butchers, with red lights shining on cuts of meat hanging from hooks on a metal bar. There was no wild game in sight—this was not an upmarket neighbourhood. The market stretched out into the open along contiguous alleyways, with one along the side selling clothing, another household goods, flowers, plants and pets, among other things. There were tailors, watch repairers, cooked food vendors and bakers selling delicious flatbreads steaming from the griddle.
We often bought these flatbreads for lunch. We frequently ate it along with the cooked wares from a north China version of a salad bar: vinegar pickled vegetables—lotus root, spicy marinated cucumber, grated carrots—and cold potato flour noodles in toasted sesame paste sauce were among my favourites. A woman and her husband prepared the dishes, presumably at home or in the back of the stall. We bought all our fruit and veg in the market, and got to know which vendors sold the nicest and freshest produce. One of the vendors I liked most was a tall young man whose family came from a rural town some distance from Tianjin. He and his family sold all kinds of things that I didn't recognize on their vegetable stall, and he would patiently explain to me how to cook them. One example was the spring tips of ash branches, which were delicious stir fried with egg, and like nothing else I had tasted. He always had a joke and often gave his regular customers an addition to what they had paid for, along with the standard handful of spring onions and leaves of fresh coriander.
I did occasionally shop at Carrefour, but I didn't like it much. There was nothing social about the interactions in such supermarkets, and I didn't find that the packaging and the sterile environment made me more trustful of the safety of what I was buying. I got into the habit, like most of my neighbours, of shopping daily at the street market, buying small amounts of what I wanted to cook and eat that day. Fresh food, less packaging, less food waste and friendly chat to boot. I've also loved shopping in similar markets in Hong Kong and Chiangmai, and found comparable experiences in farmers' markets in Vancouver and Edinburgh.
Since the suspected origin of the coronavirus outbreak was linked to a wet market in Wuhan where live animals were on sale, there have been constant calls for wet markets to be banned. Such calls conflate wet markets and the eating of wild game, and show little awareness of the complex interconnections involved in the emergence of zoonotic viruses such as Covid-19, which knowledgeable writers have attributed to the destruction of ecosystems on the ever-expanding frontiers of global capitalism. Attacking wet markets is often a cover for barely-disguised anti-Asian racism, and unfortunately most journalists feed into this by continuing to report on the origins of the pandemic in a simplistic way, as well as giving air time to ill-informed celebrities who repeat these tired tropes.