Nick Prior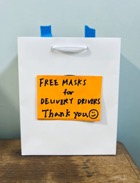 Do you mask up? Amidst the unbearable tragedies unfolding around Covid 19, one might be forgiven for failing to notice that people in these islands have slowly taken to the idea that wearing a face covering or protective mask of some kind might help mitigate the spread of the virus. Decorator's masks, surgical masks, washable masks, makeshift masks, branded masks, three-layered masks, Joy Division masks – people appear increasingly willing to don a lower-face covering procured in whatever way they can, to protect themselves and others. News feeds feature almost daily updates on the scientific evidence for and against the mask's effectiveness in reducing transmission, as well as which types of masks are the most effective, where to get them, and how to stylise your own fashionable mask in order to stand out from the Covid crowd. (Bourdieusian sociologists won't be surprised to hear that cultural distinction operates even in the midst of a global pandemic). Not unlike the beak-like plague masks of 17th, 18th and 19th century Europe, the protective mask has – alongside rainbows and representations of the spikes of the coronavirus itself – come to symbolise the pandemic. It is now part of the semiotic landscape of our Covid times. Unmasking some sociological components of face coverings might, therefore, give us traction in understanding elements of our current predicament.
There are four things that interest me, here. First, masks are politically potent objects, subject to the ideological work of nation states, city authorities and global institutions. When scarce they become indicative of the state's failure to plan or to protect front-line workers. When their efficacy is disputed, they are subject to a bewildering outpouring of information from competing agencies, the advice changing almost daily or weekly. The news that the Word Health Organisation (WHO) has changed its guidance on wearing masks – declaring that masks should be worn in public areas in order to reduce the spread of the virus – shows how the mask is a mutable wearable. Its purpose and meaning is constantly changing as a result of the deliberations and struggles of powerful social and political actors. While in Scotland, the government is, at time of writing, considering making wearing face coverings compulsory on public transport and inside public venues, in the U.S. masks have moved centre stage in an increasingly divisive political environment. The decision to wear a mask appears to be as much a political as a health choice, with both President Trump and presidential hopeful Joe Biden taking opposing actions on whether (to be seen) to wear one.
Important differences exist beyond the realms of governance, privilege and power, however. We already know that Covid 19 has impacted more heavily on BAME communities and that experiences of lockdown are socially stratified according to wealth and political influence, access to green space, child support, healthy food, and so on. That the lowly mask is also caught in structures of social division should not entirely surprise us, then. Cost and supply are always factors, of course, but so too basic decision-making processes around the risks attached to wearing a mask by particular social and ethnic groups. Hence, in an atmosphere of uncertainty, protest and unrest – made more acute in the wake of police brutality against African Americans and the murder of George Floyd – it is clear that some members of the black community have decided not to wear a mask in order to reduce the risk of serious harm from a police force that sees a partially obscured black face as reason enough for suspicion, harassment or worse (link in Japanese).
Second, while Covid 19's ruse is that it cruelly exploits the very thing that makes us human (contact, communication, connection) a protective mask is designed precisely not to be an absolute barrier to the outside world for the same reason. It makes invisible only part of our faces, for it must still allow for some of the basics of interaction. It's not a hazmat mask or protective helmet, after all. The mask meets the fiendish invisibility of the virus with its visible counterpart – a shield, of sorts – but an imperfect one that doesn't cover every facial opening and may give the wearer a false sense of security. Even in its surgical form it is a semi-permeable boundary, comprising innumerable but imperceptible apertures of the gauze. It therefore dramatizes and makes evident the vulnerability of the wearer and those around them. One of the most appalling statistics of this pandemic concerns the number of front-line health workers who have lost their lives in this outbreak. Many of them patently did possess protective masks and other forms of PPE, albeit distributed too late or in a faulty, sub-standard or even second-hand state.
Third, a mask transforms core elements of the interaction order and the mundane dynamics of sociality. From the shop encounter to the chance meeting, masks intervene in the intricate play of language and gesture, face work and forms of talk. For the interactionist sociologist, the mask is already, of course, a metaphor for the work that goes into playing a role or conveying desirable characteristics to others. The mask adds another non-human layer into interpersonal situations, making it potentially harder to read the intentions of others and the subtle levels of communication that are already at play. It means we have to work extra hard to look for and hear the signifiers of meaning: were they being serious, are they angry, sincere, disappointed, ironic, upset? In a hear-rending article written by a beleaguered doctor dealing daily with dying patients with coronavirus, the doctor writes movingly about having to soothe a dying man through thick wads of PPE. "Behind our masks", she writes, "we strain to hear each other speak and are forced to second guess our colleagues' expressions. Being protected entails being dehumanised."
And what of speech, the mouth and humanism? Would it be a Derridean stretch to say that Western societies, with their emphasis on voice and speech, are peculiarly ill-equipped to deal with these attenuated forms of interaction? Is this one of the many reasons why European nations have been slow to adopt masks as part of everyday face apparel? There is a strand of thought that suggests that many countries in East Asia (South Korea, Hong Kong, Japan, China, Taiwan), have suffered less catastrophic human loss during the pandemic precisely because these are societies where mask wearing is common in everyday life. And members of these societies have found ways to co-exist with them while maintaining a richness of human communication. In Japan there is a well known proverb – "me wa kuchi hodo ni mono wo iu" which roughly translates as "the eyes can tell you as much as the mouth". What we might call "eye-work" and the "reading" of eyes is a strong component of how members of Japanese society go about their business while masked, supported by a reliance on para-linguistic context. Exploring how culture shapes and gets into behaviour and action during the pandemic, then, is an important task for the sociologist not least because cultural matters can be matters of life and death.
Fourth, the Covid situation has sparked into being myriad cultures of amateur mask production, instigating a whole DIY infrastructure of makers geared towards providing stock for those in need. In Edinburgh, Edinburgh Mask Makers organise themselves on a supply-and-demand basis, with a Facebook page combined with a series of physical drop off boxes around the city. Typically, a call goes out from a service or group for a number of face masks, and individual makers commit a certain amount until the total is reached. Volunteers have also developed a buddy system of direct transaction to avoid unnecessary group administration and people donate various materials, like fabric, to the group. Linked initiatives for the borrowing and swapping of sewing machine hardware have also sprung up. There's more than a whiff of what Mason calls post-capitalism at work here: a self-organised network of digitally and physically connected individuals, working on an entirely voluntary basis, to meet a human need. If there is some positivity to take from the pandemic it is surely in how networks like these – and the acts of kindness and support that have taken root – have fomented. How we harness these energies in order to imagine new futures will be a key question for those interested in not returning to the "old normal".
As for the mask, there's a good chance that it may be here to stay and that we need to get used to it as a material presence on our faces and in our towns, cities and communities. That might mean a recalibration of what constitutes the public sphere and the interactions that happen there, perhaps even necessitating new skills of interaction and ways of being human. It is worth remembering that the invisible counterpart to the mask is 0.1mm thick, and is unlikely to disappear anytime soon.
10th June 2020