2020 was a legacy year for animation in Edinburgh – the National Galleries of Modern Art, began to celebrate the 100th anniversary of the legend, Ray Harryhausen and at Edinburgh College of Art, we celebrated the 30th anniversary of the animation programme.  Though different in scope and scale, they are connected by a passion for film making, innovation, story-telling and stop motion animation. As we move in to 2021 we reflect on these legacies and how they contribute to our cultural heritage.  Through a two-day conference we will take all things stop motion as its over-arching theme to consider, celebrate and critique this particular form of making.
Programme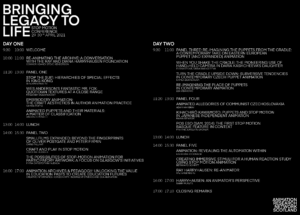 Click here to view the programme.
Opening Event: 10-11am April 29th
As the opening event, we are pleased to present: 'Re-Animating the Archive: A conversation with the Ray and Diana Harryhausen foundation', featuring Connor Heaney, collections manager at the Foundation in conversation with Dr Steve Henderson – scholar, festival director and specialist in animation archives.
They will be talking about restoration and preservation of key pieces of the Harryhausen archive which is currently on display in the Ray Harryhausen: Titan of Cinema Exhibition at the National Galleries of Scotland in Edinburgh.
This is a free event, open to the public. Click here to register for the opening event.
Closing Event: 4-5pm April 30th
For the closing event, we welcome stop motion great Barry Purves as he reflects on Harryhausen's work in 'Harryhausen: An Animator's Perspective'. Internationally acclaimed, OSCAR and BAFTA nominated Animator and Directory, Purves has worked across sectors, genres and platforms, and we are delighted to welcome him to round off our conference with a reflective discussion around Ray's work and his own.
This is a free event, open to the public. Click here to register for the closing event.