Hi everyone! My name is Nina and I am an international student from Toronto, Canada. I am in my third year (second GEP year) of Veterinary Medicine here at the University of Edinburgh. So far, I have been loving vet school in Scotland and I am very happy I chose this path. I truly wouldn't have it any other way. But of course, being a student also comes with challenges that people are hesitant to share. I wanted to outline some of the issues I have come across in my first few years here and tips on how I overcame them 🙂

Imposter Syndrome (the most important one)
I've realized that imposter syndrome is something that almost every single student struggles with. This is where your mind tells you that you are undeserving of the position you are in. With the stress of exams, studying and being a vet student, I was often setting unrealistic expectations for myself and I wasn't giving myself enough credit for my achievements. I always felt like I was doing much worse than my classmates and I couldn't stop comparing myself to those around me. Like I said, this is NOT uncommon for people in the medical field (even professionals struggle with this) and with the right attitude you can change your mindset so that it doesn't impede your abilities to succeed.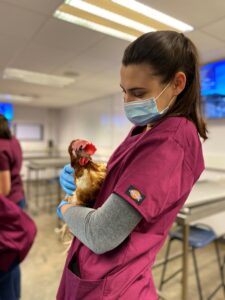 TIPS: It's important to recognize the moment you start self-doubting yourself so that you can redirect your negative thoughts. Take a step back and reflect on your achievements that have brought you to the place you are in right now. You have come this far because of all the effort and hard work you have put into your future career, and this shouldn't go unnoticed. One of the things I love about studying vet med at this school is the supportive environment that is created by the students and faculty. We attend mental health seminars that give us tips/tricks to alleviate stress, and we attend mandatory one-on-one meetings with staff members that give us the opportunity to express any concerns we may have. Through open conversations with peers, family, and professors, you can acknowledge your challenges and will be offered support. Once you understand that this is a feeling everyone deals with, you will stop being so hard on yourself. Studying with a friend or attending group study sessions is one way I stay motivated throughout the semester.
Our school assessments are created in such a way that as long as you pass the course (get 50% or above) you will be well equipped to succeed in the field once you graduate. Therefore, there is no need to reprimand yourself if you are not getting 90s like you did in undergrad.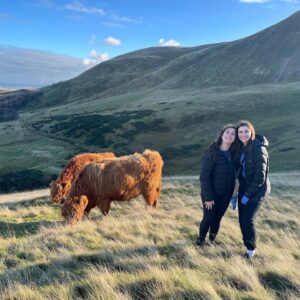 Homesickness
To be honest, since moving to Scotland I haven't felt as homesick as I thought I would. So if you feel like you are the type to feel homesick, don't panic! Edinburgh is such a wonderful and charming city, and I feel very lucky to have the opportunity to experience studying abroad. I was overwhelmed with the excitement of moving to a new country and making new connections with people who share similar interests as me. But of course, being separated from friends and family for extended periods of time can have an impact on your mental state.
TIPS: Now a days thanks to technology, it is very easy to stay in touch with loved ones through social platforms. If you ever feel like you are missing home, all you need to do is pick up the phone and facetime your friends/family. Even a text or a one-minute phone call can lessen the feeling of being homesick. Ways that I cope with this are staying active in my group chats (on Instagram and Snapchat), imessaging my friends and calling my family. Also, take the time to invest in new relationships that you will build once you move here. The more time I spend with the friends I have made here, the less I feel like I am missing out on something going on at home. Finding a good support system in Scotland will make quite a difference in your experience abroad.

Dark Winters
The summers here are wonderful as the sun sets around 11pm, but that means that in the winter, it can get dark as early as 3:30pm. I've found myself waking up in the dark and coming out of class when the sun has already gone down, which has led to feelings of low energy and increased tiredness. This typically causes people to lose pleasure in everyday activities, such as engaging in sports. But don't worry, the faster you get used to this change the less it will have an effect on your overall mood.
TIPS: Just because it gets dark early does not mean your day has to come to an end.  Make a conscious effort to keep up with your regular day-to-day schedule and push yourself to stay active. Whether it's going for a walk/run or to the gym, having a good exercise routine will tremendously impact your mood. If you're the type to find it hard to stay active in the winter (like me), finding a gym buddy will help your motivation. Eating healthy will further boost your energy and positively influence your mood. Make a schedule and plan fun activities with your friends that will get you out of the house. My friends and I love to attend pub quizzes, watch movies at the theater and go out for coffee/hot chocolate when it's cold out. One of our favorite events in December is to attend the Edinburgh Christmas Market which is filled with cute boutiques and tons of food/drink stalls.
I hope this post motivates you to keep working hard and not give up on your goals. Everyone has daily struggles that they deal with but it's how you handle those struggles that define you as a person. With the right attitude and mindset, you too can overcome any challenges that get thrown your way on this journey. I promise you they are all worth it !
Cheers,
Nina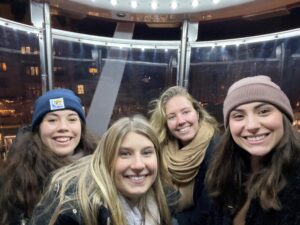 Share