What is EMS? EMS stands for Extra Mural Studies. Basically, that means something like work experience. I know that other people have talked about their EMS experience and I just wanted to share mine as well. We all end up having different opportunities in a bunch of different places. I figure learning about others' experiences can help guide you for your experience.

NB: Please visit the RCVS website for the most up to date information on EMS requirements. Requirements have changed due to Covid and will be reviewed and updated in line with public health guidance.
https://www.rcvs.org.uk/lifelong-learning/students/veterinary-students/extra-mural-studies-ems/temporary-ems-requirements/ 

Husbandry EMS
During the first 1-2 years (1 year for GEPS, 2 years for 5-years), I had to complete 12 weeks of animal husbandry EMS. I only had about 13 weeks in which to do this since I am a Graduate Entry Programme (GEP) student. This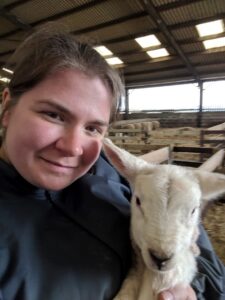 EMS is mostly to learn about proper husbandry of animals – how to take care of them, how to handle them, how to work with them, etc. These 12 weeks had designated requirements – 2 weeks dog and cat, 2 weeks horses, 2 weeks cattle, 2 weeks sheep, 1 week poultry, 1 week pigs, 1 week exotics, and 1 week free choice. As a GEP, though, I was able to use previous experience working in the kennels at a vet clinic at home to get an exemption on my Dog and Cat experience and one week of free choice. This gave me a little wriggle-room, which I definitely needed.
My first placement was a week at the SSPCA (Scottish Society for Prevention of Cruelty to Animals). Though I helped with dogs and cats there, I primarily focused on working with exotics. I worked with ferrets and birds. I practised holding rabbits and guinea pigs and asked lots of questions about their feed and hay. I even tackled my fear of snakes in the reptile room.
Next, I spent 2 weeks lambing at a farm in Alnwick, England. This was my absolute favorite experience. The hills stretched as far as the eye can see. The sheep were jumpy and anxious, but I learned how to work with them, catch them, and herd them. During the last few days there, I had two little lambs who would not suckle. After a few hours and some bottle feeding, we were able to get one to start suckling on her own. However, the second one just would not feed on his own. I had to put a tube down his oesophagus to put some milk in his stomach. I got him to suckle the bottle only a couple times during those first couple of days. Towards the end of my stay, I was able to just bottle feed him, but he was still not suckling off his mom yet. I even took time before catching my train on that last morning to make sure he had some breakfast. No one was sure he was going to make it. A few days later, my host family sent me an email and some pictures showing him finally eating on his own and heading out to the field with him mom and sister. This experience was invaluable. I even got to experience some British culture at a Bingo night and Women's Club meeting in town. My host family was amazing, and I learned so much.
Next up were my cattle and horse placements. I did my 2 weeks of cattle at Langhill – the farm associated with the Dick Vet where we do most of our farm practicals. There I spent the days milking and helping around the farm. We moved some cows to drying off fields; we counted calves; I saw a cow give birth; I even got to help some final years with tail-vein blood draws! I then went to the Drum RDA (Riding for the Disabled) for horses. This amazing place is a riding school for disabled kids and adults. The people there are just extraordinary. Not only did I learn more about taking care of the horses, but I also had the opportunity to work with some amazing kids on the trail rides.
To finish off my husbandry EMS, I spent a week in Fife, Scotland working with poultry and a week at Pigs Inn Heaven in Littleborough, England with rescue pigs. My favorite part of the poultry was receiving a delivery of 1-day old chicks and then sitting on the ground and letting them swarm me – such a wonderful feeling having some sleeping on the legs and others just jumping around me. Pigs Inn Heaven is a pig rescue charity that saves and rehomes pigs from people who cannot keep them any longer. Working with a charity and helping to take care of these animals was really rewarding.

Clinical EMS
Once I completed all my husbandry EMS, I could now move on and start clinical EMS. Clinical EMS coincides with the beginning of the clinical years (3rd year – final year (2nd GEP – 4th GEP)). Originally, I should have needed 26 weeks, but now the requirement has dropped to 13 for my year because of Covid. Some of our Clinical EMS requirement can be fulfilled by completion of our Student Research Component (SRC) project. I am working on the risk factors for feline dementia and will earn 6 weeks when that is complete. Now I will tell you about the actual clinical work I have gotten to do. This is where you actually get to go work in a vet clinic and put all of the theory you have been learning into practice.
Covid has put a huge damper on how much I have been able to do, but I was still able to go on some placements. Last summer, I did have the amazing chance to fly to Spain for a Spay and Neuter Clinic with ACE (Animal Care España) in Malaga. I spent 10 busy days doing back-to-back spays and neuters on dogs and cats and even assisted on an emergency Caesarean. During the first week, I felt like I was just learning the skills, but could work unassisted and think more critically about those skills during the second week. I realized that I knew more than I thought I did. However, my hands would tire from the long days of suturing. I now try to use my left hand when doing more simple tasks like crosses (x), checkmarks, and even eating. This has been helping me build musculature in my left hand that I realized I was lacking. I also realized that I was not as up to speed on all my suture patterns and knots as I would have liked and found some great YouTube videos to help me out.
My most frequent placement has been at the clinic where I worked before coming to Edinburgh. Luckily, the school and BVA (British Veterinary Association) give you insurance (as long as you fill out the forms) for traveling and working abroad (including my home in Pennsylvania). Going back and working with the wonderful team of vets and techs really gave me the opportunity to see how much I had learned. I practiced client relations, clinical pathology and diagnoses, as well as reviewing microscope samples. I cannot wait to go back this summer to see how far I have come.
EMS in the Time of COVID
I have also had the opportunity to attend numerous conferences and webinars. Originally, I could only have 1 week of Conference EMS; now, though, I can do 2-4 weeks. I attended the Dick Vet Animal Behaviour Conferences last year and this year, Veterinary Ethics and Welfare Conference, Wildlife Conservation Conference, and the GECHO Wildlife course. These were all in person last year and had some great talks and workshops. This year, most conferences have been online, and I have been able to attend so many more because of this great opportunity, including Global Veterinary Careers Summit, AVMA Convention, Fetch DVM360 Conference, APBC Virtual Cat Conference, and Becoming Behaviourally Aware: A Virtual Conference for Veterinary and Veterinary Nursing Students, just to name a few. The information that you get from conferences and webinars like these is the same as you will need to do after you qualify as a vet. This learning is called CPD (Continued Professional Development) in the UK and CE (Continuing Education) in the US. There are a certain number of hours you will need to complete to keep your license up to date, so this is good practice for that.
While I have completed the necessary requirements (other than my SRC which is still in progress), I still plan on taking every opportunity to continue doing EMS and learning anything I can. I actually just signed up for a week of online Lab Animal Medicine EMS with the University of Edinburgh's Bioresearch & Veterinary Services. I also want to work at the PDSA (People's Dispensary for Sick Animals) to experience how a charity clinic works and the Cat Clinic to experience how a feline-only clinic works. I am hoping that more opportunities will open in the future as well and I will be able to experience more places and see how they work. As I go to each place, I try to learn everything I can as well as analyzing everything they do so I can one day implement the things I have learned in my own clinic.

The other great part of so many of these placements was that I have gotten to travel to new places. I have ridden the train down the coast of Scotland to England, walked the beach in Malaga, Spain and sat on a terrace eating breakfast and watching the sun come up. I love the fact that I have been able to gain such valuable experience while also broadening my horizons and traveling the world. With all that being said, my advice to those of you still working on your EMS requirements or about to embark on your journey is to take every opportunity you can get and really try to get the most out of it. Study up a little before you go (or even while you are there – I totally looked up spay and neuter videos before my first surgery). No matter the circumstances, there is always something to learn and something to take away. But, really, make the best of it and have fun!
Share