Welcome to another year of the blog everyone!
If you are new to the blog, or a seasoned regular I shall re-introduce myself. for the start of the new year! My name is Sarah Batiste and I am a 4th year student in the Graduate Entry Programme (GEP) course here in Edinburgh. I am from Canada, near Toronto and a quick drive away from Niagara Falls. I am excited to see what this new (and very different year) brings!
This year has been an adjustment for all, whether you are a student, parent, employee, or employer. It has truly tested our strength as a collective and our empathy and willingness to protect others. It certainly hasn't been easy for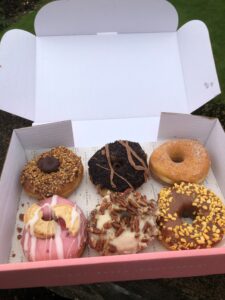 anyone; however, we are all becoming accustomed to our "new normal". It has been hard to keep positive everyday with the bombardment of news articles and novel information thrown our way. Admittedly, there are hard days and there are good days throughout all of this.
Something positive that I have truly come to appreciate over the past months is noticing that we are all in this together. None of us are alone in how we are feeling, despite it being an isolating year. Whether this is expressed through a Zoom call with friends and family in different/same time zones, a friendly smile from a stranger on a fall walk, or little gestures from pals. All of these little things make distancing feel less distanced. 
It has truly changed the pace for many, including myself. I find myself finding new joys in previously ignored "little" things. These include: a delicious donut, a beautiful fall leaf, the changing of the trees, a new friend, how much better life seems after going outside. I hope that we all continue to find new joys and delights with each passing day and continue to feel close at a distance.
Happy Autumn!
Share