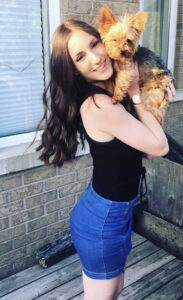 Hi everyone! My name is Maria Rosa and I'm in my fourth year (third year of the Graduate Entry Program). Before I dive into my first blog post, I'll start off with a bit of an introduction.

I was born and raised in Ontario, Canada in a city outside of Toronto. Prior to moving to Edinburgh, I completed a Bachelor of Science at the University of Guelph with a major in biology and a minor in nutraceutical sciences. Before beginning veterinary school, I took a year off which I spent working at a pet store and a veterinary clinic. In my free time, I enjoy cooking, spending quality time with friends and family, and exercising. 
I recently flew back to Scotland and am ready for another year! This past month has been all about settling in. I've settled back into my flat, have gotten back into my studies, and have adjusted to my new schedule. This semester I am learning about farm animals, equine, and veterinary pubic health. Things have been a little different this year due to the ongoing pandemic. Lectures are online every day except for Thursday, which is my practical day! Every Thursday I go to campus and get all of my hands-on learning. So far in practicals I've done a cow clinical examination, examinations on a variety of different avian species, jugular vein draws, cow milk testing, conflict resolution practical, catheter placement, CPR on cats and dogs, and so much more. I am really enjoying practicals this year! As a fourth year, I have more knowledge to apply and am more confident to get involved in my practicals.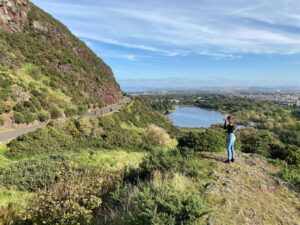 With so much screen time due to online lectures this semester, I've taken advantage of my free time to explore Scotland! These past few weeks I've visited the Royal Botanic Gardens, Circus Lane, Holyrood Palace, Margarets Loch, and Duddingston Loch. In my past years, I made the mistake of keeping myself cooped up and studying. This year, I'm dedicated to changing this and exploring Scotland when I can.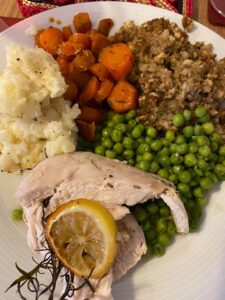 My favourite memory from my fourth year so far was a Canadian Thanksgiving celebration that I planned with my fellow classmates. We had a virtual games night where I got to make new memories with my friends, who were excited to join in on the celebration even though many of them are not Canadian. Celebrations like this really highlight the importance of keeping a tight friend circle while studying abroad.
I've also kept myself involved in my role as a Canadian Veterinary Medical Association (CVMA) social representative. So far, I helped lead a "virtual bake along" where I baked cookies with incoming Canadian students who are starting their journey at the Dick Vet! I am currently helping to plan future events with the CVMA and am looking forward to more events to come. I am also a student ambassador and recently took part in a Q&A session where I helped give advice to prospective students. My involvement in these extra-curriculars have helped me maintain a social life throughout the semester and have allowed me to connect with other students!
My advice to you after writing this blog post is to step away from your screens when you can, get involved, explore, and celebrate every milestone. This will allow you to make long-lasting memories and make the most of your veterinary school experience. As veterinary students, it is easy to become bogged down in lectures, but it is necessary to take a break and enjoy the little things.
I hope everyone is keeping safe and staying positive.
Until next time!
Share